'Obvious threat': Russian officials warn Poland not to proceed with permanent US military base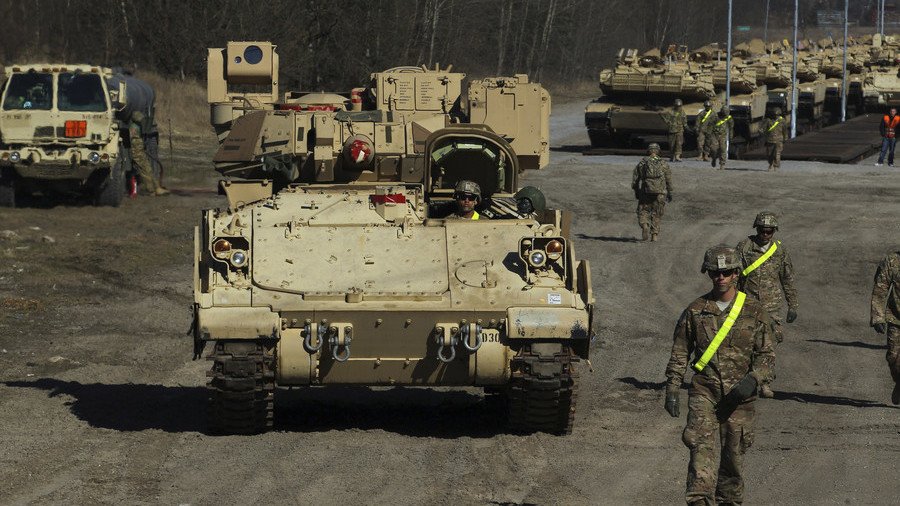 Moscow will have to respond if Warsaw pushes through a plan to build a permanent US base on its soil, top Russian officials have warned, as the Polish defense chief said construction of the so-called Fort Trump was a done deal.
Poland's Defense Minister Mariusz Blaszczak confirmed that a permanent US military installation will be "undoubtedly" created on the country's territory. While bolstering US military presence is not a matter for negotiation, the exact mechanism and select units to be deployed are still being discussed, Blaszczak told Polish Radio on Tuesday.
However, he did not reveal any details citing the need to protect a "strong negotiating position."
The idea of building a permanent US military installation is wholeheartedly supported by top Polish officials, who are even ready to pay a hefty sum of $2 billion for it.
President Andrzej Duda discussed the base with his US counterpart Donald Trump back in September, coining a name for the installation – 'The Fort Trump.' The base's namesake said back then that he seriously studied the Polish proposal, yet Washington has not confirmed if the base's construction was agreed.
The Polish-US plans have raised alarm in Russia, which sees such a base as a direct threat to security. Building "Fort Trump" will certainly trigger a response from Moscow, Russian Senator Vladimir Kozhin warned.
Construction of such military installation immediately close to Russian borders is an obvious threat to us. Russia will have to react to it.
While Poland has been housing US troops for years, since it joined NATO back in 1999, none of these units are deployed permanently to the country as they are – supposedly – rotating. The US military presence has been growing steadily over the past few years. Last October, Washington sent a new mechanized brigade there. According to the Russian military, the brigade's predecessor has, however, left its equipment "in place" for unexplained reasons.
Like this story? Share it with a friend!
You can share this story on social media: