Circus horror: Lioness attacks 4yo girl during show (VIDEO)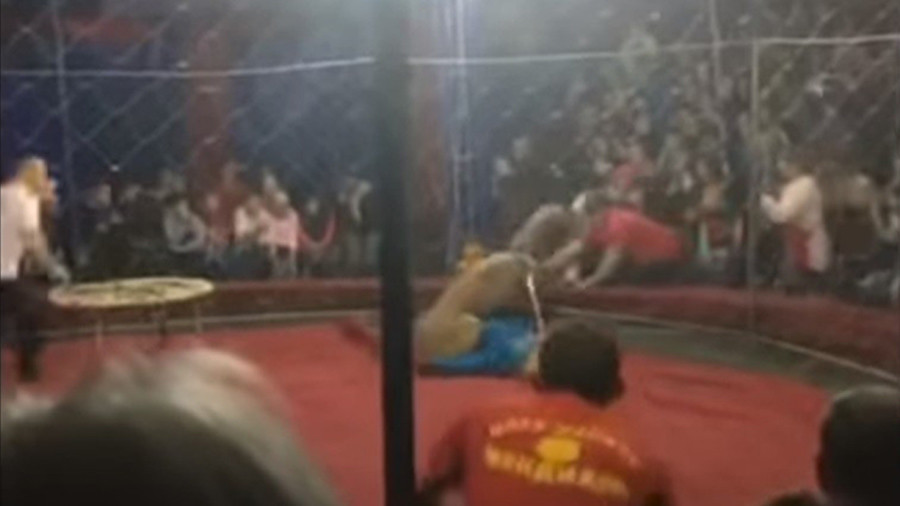 A traveling circus performance in Russia was interrupted in a horrible way after a lioness suddenly attacked a 4-year-old girl through the fence around the arena.
The terrifying incident, which was caught on video, happened in Uspenskoye, a town of some 12,000 residents, located in the Krasnodar region in southern Russia. The footage, filmed by one of the spectators, shows the lioness lying on the floor after instructions from the tamer. She then suddenly rushes across the arena and reaches out at a small girl standing with her back to the animal at the first row of seats. Cries of horror are heard as circus workers rush to save the child.
The girl, with claw and bite wounds on her face and chest, was rushed to hospital for emergency surgery. According to medics, her life is not in danger, but she is to be transferred to the regional capital, where a better child trauma center will continue her treatment.
Russia's Investigative Committee said it has detained the 51-year-old director of the circus, who is suspected of failing to ensure safety of clients at the show. As the investigation is in its early phase, the prosecutors are yet to decide whether they would ask a court to order pre-trial detention of the man.
The incident is a chilling reminder that big cats at a circus are not just larger version of safe house cats, Askold Zapashny, a renowned Russian tamer, said.
"People often think that if the animal seems calm in the arena, it's just a big kitty that can be approached and petted. Some parents even encourage their children to do it," he told online tabloid Life News. "This is madness bordering cretinism."
Zapashny added that in this particular incident the blame most likely was on both the circus workers and whoever was accompanying the girl in the circus. The tamer was not in control of the lioness when she attacked, while the child was allowed to stand too close to the fence.
Think your friends would be interested? Share this story!
You can share this story on social media: