Russians say Putin, military power & unique spirit make them glorious nation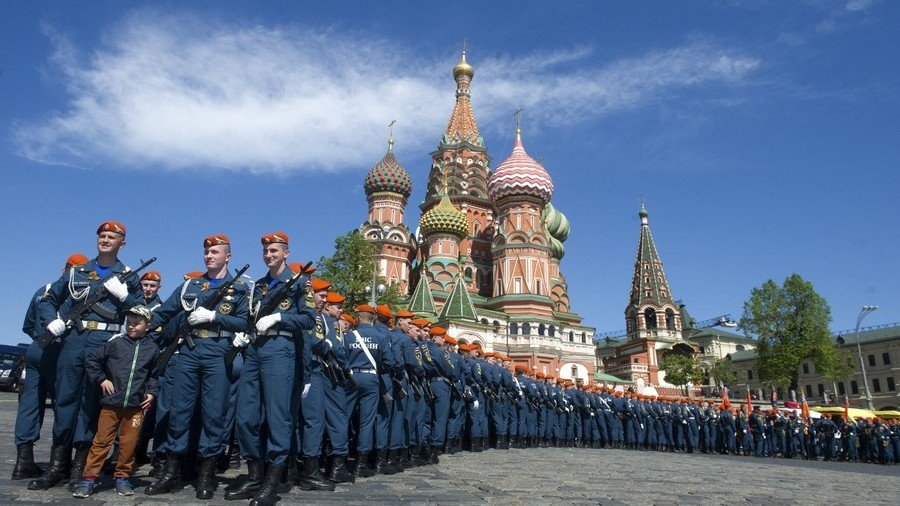 Almost half of all Russians consider their country a great world power, naming the president, the military forces and the spirit of the people as the main sources of their greatness, according to a recent poll.
The survey, conducted by the state-run public opinion research agency VTSIOM in late April this year, showed that the share of Russians who think that their country can be considered a great world power is now at 49 percent, down from 57 percent a year ago.
However, about a third of respondents told researchers that they expect Russia to become a leading world nation over the next 10 to 15 years. In contrast, 11 percent think that their country will never reach the level of leading developed countries.
When researchers asked Russian citizens what in their opinion made their country strong and respected, 26 percent cited the nation's capable and well-armed military forces, 22 percent said it was "the strong spirit and will of the Russian people," and 17 percent attributed the success to the "good and powerful president," Vladimir Putin.
When answering the question about their own take on the major successes achieved by the nation over the past decade, 18 percent of Russians said it was the development and reform of the military forces, 12 percent named the reunification of the Crimean Republic and the Russian Federation, and 8 percent recalled the 2014 Olympics in Sochi. However, as much as 37 percent of Russians said they cannot give any examples of their country's successes in recent years.
A different poll conducted by the VTSIOM center in April showed that 83 percent of Russians currently describe themselves as happy. When researchers asked 'happy' respondents what made them so content, 30 percent said their families, 16 percent said it was good health, 14 percent cited a good job, and 13 percent their children. Just 7 percent of Russians who were unhappy with their lives blamed this on material problems.
A separate poll conducted by the independent sociological service Levada showed that 86 percent of Russians are reluctant to take part in street protests, and 75 percent of respondents said they did not expect others to demonstrate their discontent. Only 8 percent of Russians told researchers that they were ready to protest – down from 13 percent in 2017.
Like this story? Share it with a friend!
You can share this story on social media: