Prominent Russian rights activist cleared of child porn charges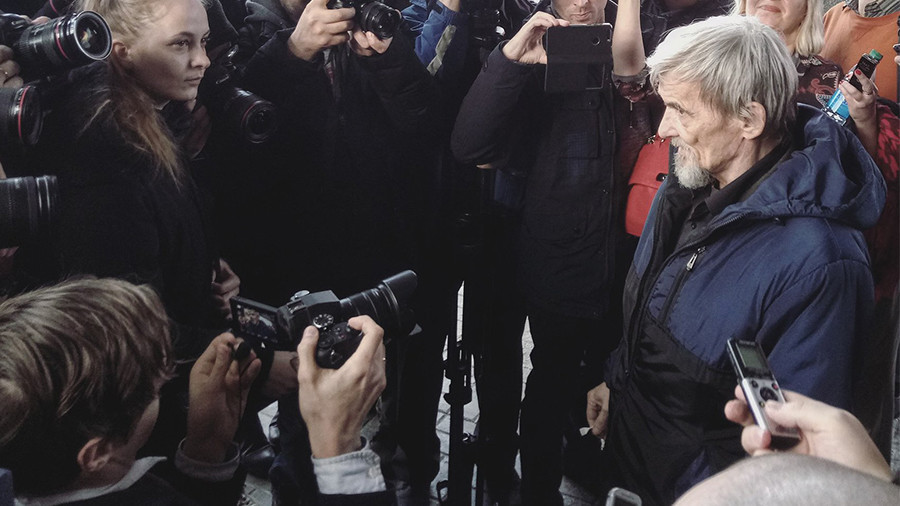 The head of the Karelia branch of the Russian NGO that deals with the history of Stalinist purges has been acquitted of creating child pornography, but received a minor sentence for illegal possession of firearms parts.
In late 2016, the head of the Karelia Memorial NGO, Yury Dmitriyev, was detained on charges of making child pornography and corrupting his underage adopted daughter. The charges were based on the anonymous letter that claimed that between 2008 and 2015 the activist had repeatedly photographed the girl naked.
Dmitriyev, who was 60 at the time of his detention, pleaded not guilty and said that he although he did make the photos, his purpose was completely innocent – he wanted to monitor the girl's physical condition and have proof that her health was not deteriorating in case the local family court needed it. Russian law allows family courts to take children away from adoptive parents in cases when the children are kept in inferior conditions, beaten or molested.
He also described the probe against him as an alleged attempt of regional officials to punish him for uncovering the history of mass executions and other totalitarian crimes committed in Karelia during Joseph Stalin's rule.
However, the court ordered that the activist should be put in pre-trial custody, where he spent 13 months. The case attracted significant public attention and many Russian actors, musicians, writers and other celebrities made statements in Dmitriyev's defense.
In late January this year, Dmitriyev was released under a travel ban after forensic experts officially recognized the photos as not being pornographic. In addition, the activist was taken to Moscow and shown to a special board of psychiatrists, who came to the conclusion that the suspect was not a pedophile and is sane.
On Thursday, at a closed court session held in the city of Petrozavodsk, the judge pronounced the activist not guilty of child pornography charges.
At the same time, the court convicted Dmitriyev of another episode that appeared in the course of the investigation. As investigators searched the man's home they found an old sawn-off rifle that was described in the case as "basic firearms parts." Illegal possession of such items is an offense in Russia and the court sentenced Dmitriyev to two and a half years under police supervision.
You can share this story on social media: