Presidential poll results cancelled at 7 ballot stations – Russian official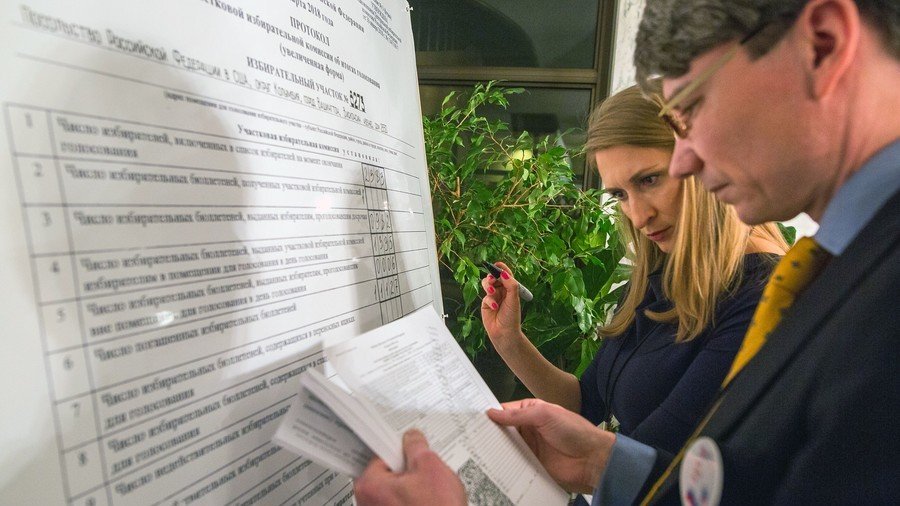 The head of Russia's Central Election Commission has said that the results of the March 18 poll had been canceled in seven districts across the country, citing deliberate provocations as the reason.
"At present, the voting results have been canceled in seven elections districts," Ella Pamfilova told reporters on Tuesday, adding that some of the violations were deliberately prepared stunts. "These were provocations of falsifications," she said. The seven districts are located in four regions across the country: in Dagestan, Tymen, Kemerovo and in the Moscow Region.
Pamfilova said that the violations had been uncovered by monitors who worked at the elections. She also noted that all polling stations were equipped with CCTV cameras that duly recorded the incidents, but the monitors' work still helped to address the problem quicker.
She used the Tuesday press conference to address other public monitors with a request to "stir the information garbage" and "separate the wheat and the chaff" when dealing with media reports about violations at the polls. She recalled a ridiculous but serious incident in which an opposition NGO released a report and a video about a violation that allegedly took place in Irkutsk, Eastern Siberia.
In the video, a man dropped two ballots into a ballot box at once, which is against the rules. The report has already started to cause a stir over the internet when users noticed that the alleged violation took place well before the elections actually started. Further investigation reportedly showed that the video was made well in advance, and was heavily doctored to achieve the desired sensational effect.
"Call the liars liars and slap the hands of those who cheekily lie," Pamfilova said in a message to the public elections monitors.
You can share this story on social media: