'I did not run for the result': Sobchak tells RT of plans to unite liberal opposition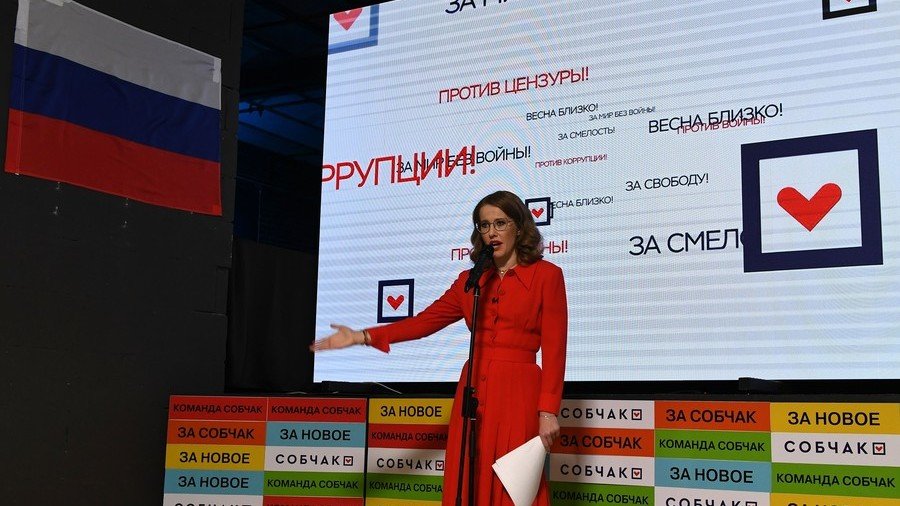 Upon getting just 1.5 percent of votes in Sunday's presidential election, Ksenia Sobchak told RT that she did not intend to win, but rather "educate" Russian citizens, and went on to present a plan to unite all liberal opposition.
"Of course, this is not the result one can dream of, but I had entered the race not for the result's sake. I wanted to tell the people the truth on pro-Putin nationwide TV channels," Sobchak said in an interview with RT's Ilya Petrenko, soon after the end of the election.
"This was my goal – to do something so that the largest possible number of people learned the truth about the real situation in Russia. This goal has no relation whatsoever to the result of the vote," she said.
The ex-socialite then boasted that she received more votes than all other liberal candidates and concluded that this could be the basis for a new coalition. However, when the interviewer pointed out that the combined support of all liberal candidates is still below five percent, Sobchak again said that the main objective was in educating the masses, in particular about the alleged connection between the "patriotic initiatives" of the current Russian government and living standards, which she described as declining.
When the journalist brought up her Sunday row with Aleksey Navalny, who strongly rejected Sobchak's offer of alliance and accused her of everything from hypocrisy to actually accepting a "tremendous sum of money" from the Kremlin for running in the election, Sobchak answered that she was disappointed with the discussion and considered all charges against her "ridiculous."
At the same time, she vowed not to give up trying to lure Navalny into a liberal coalition as this is, in her words, "vitally important."
Sobchak declined to comment on the fairness of the election, saying that she and her allies needed more time to look into all the complaints, but she also said that any realist would acknowledge that the majority of Russians really want Vladimir Putin as their president.
You can share this story on social media: