Navalny accuses Sobchak of running in exchange for 'tremendous sum of money'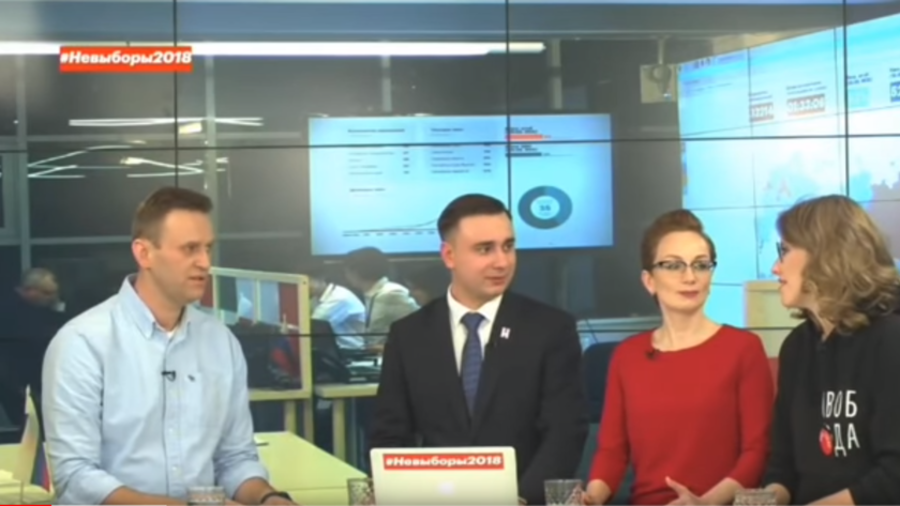 As two Russian politicians discussed the future after the presidential election, their discussion quickly turned into a confrontation, with both sides accusing each other of lies, hypocrisy and betrayal of the liberal cause.
The scandal developed when Ksenia Sobchak, the former socialite and now glossy magazine editor, proposed that Aleksey Navalny, the anti-corruption blogger turned opposition activist, should cooperate with the new political party that she wanted to launch. Sobchak tried to win Navalny's sympathies by reminding him that she also built her political platform around numerous allegations of corruption in the higher echelons of Russian power.
The response was quick, harsh and unambiguous. "Everything that you have just said are just empty words," Navalny said in a conversation that was broadcasted live on Youtube. "I don't want to be a part of a cartoonish opposition that you are painting now together with Putin."
The activist went on to describe all of Sobchak's latest activities as "despicable and hypocritical" and then, while still live on internet broadcast, he said that a few months ago Sobchak visited him at home and told him and his wife, Yulia, that she had been offered "a tremendous sum of money" for agreeing to participate in the presidential elections and that she did not know what to do.
"This is not true, you are lying right now," Sobchak parried and told her version of the event, in which she asked Navalny to join an opposition coalition and put forward a joint candidate in the presidential polls.
"All of these are lies from the beginning to the end, you were used to turn even more people away from the opposition," Navalny replied, before calling Sobchak "Putin's tool."
You can share this story on social media: