Russian reality star/presidential hopeful bursts into tears in live debate chaos (VIDEO)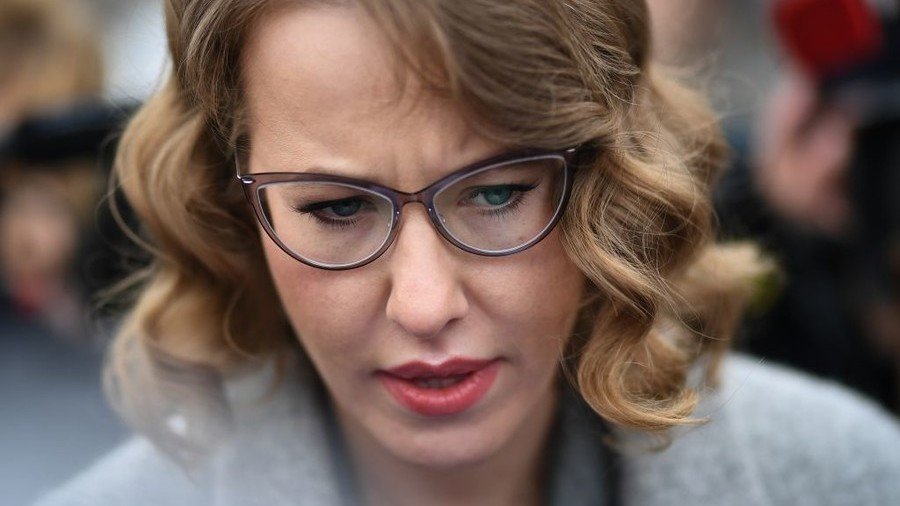 Socialite-turned-politician Ksenia Sobchak stormed out of a live TV presidential debate in tears after interruptions by fellow contestants, flamboyant Liberal Democratic leader Vladimir Zhirinovsky, and other candidates.
Tempers flared in the studio of Rossiya 1 channel near the end of the debate on Wednesday. When Sobchak, who positions herself as the opposition candidate "against all," tried to deliver her 30-second address to the voters, she couldn't get a word in edgewise because her opponents were heckling her.
"I demand my time to be returned to me," she exclaimed at host Vladimir Solovyov. But Zhirinovsky used the remark as an opening for another attack, shouting: "Return her to the kindergarten and put her on a potty. Maybe the girl will feel better."
Solovyov refused to intervene, citing debate rules. "Had it been my program, I would cut anyone off in order to let everyone have their say," he assured Sobchak, but said that the Central Elections Commission forbids the anchor from interfering with the debate.
"Those people are interrupting only me. They aren't interrupting anybody else," Sobchak said, her voice starting to tremble. "This man (Zhirinovsky) badmouths me constantly – only me. The man calls me a w***e and a dirty witch at your program. And you allow this every time. I have my time assigned to me by law and this man constantly offends me."
"I think it's horrible," the host said. "But such are the rules."
Zhirinovsky, meanwhile, continued his barrage. "Come on, start crying! Your mom will be here in an instant," he said. The other candidates weighed in, with Maksim Shevchenko telling the voters: "Don't believe those tears." Eventually, Sobchak was forced to leave the studio, covering her face with her hands.
Ksenia Sobchak, who rose to fame as the host of the scandalous "Dom 2" reality TV show and used to be called the "Russian Paris Hilton," has become the archrival of veteran nationalist leader Zhirinovsky in the run-up to the March 18 election. The 71-year-old refuses to treat the former socialite seriously and keeps mocking her at every debate.
In late February, Zhirinovsky, labelled Sobchak a "dumb fool of a woman," among other unpleasant things, which brought her wrath down on him – as well as a glass of water to the face. A few days later, Sobchak was also doused with water in an apparent act of retribution by a man shouting: "This is for Zhirinovsky."
You can share this story on social media: