Presidential candidate Sobchak faces backlash after 'asking Ukraine's permission to visit Crimea'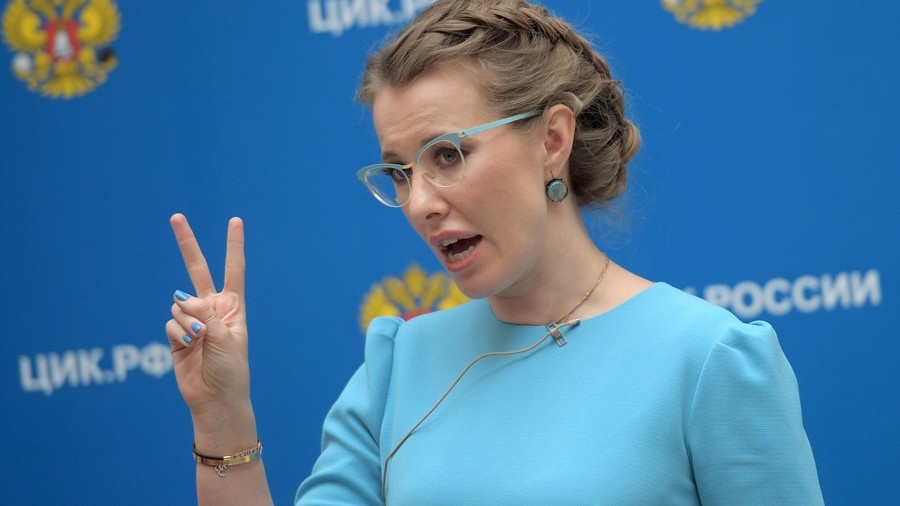 Ksenia Sobchak's claim that she requested permission from Ukraine to visit Crimea has caused outrage among Russian politicians, while the Ukrainian Foreign Ministry likened the move to schizophrenia.
"I have already sent a letter to the Ukrainian embassy and now we are waiting for their reply," Sobchak said in a Tuesday interview with Echo Moskvy radio station. "If I ever travel to Crimea, I will do it through Ukrainian territory, I think this would be the right thing to do. If I get permission for entry through Ukrainian territory, I will go."
The backlash from Russian politicians came almost immediately, forming a mixture of indignation and bewilderment. "The statement was probably based not on international law, but on PR and media strategies, because such a statement is simply rude in regard to the choice made by the people, the Crimean residents," Russian MP and former chief prosecutor of Crimea, Natalya Poklonskaya, told Komsomolskaya Pravda radio.
MP Andrey Kozenko blasted Sobchak's claims as hypocrisy. "I would like this presidential candidate to explain why she did not need any permission from Kiev when she visited Crimea in April 2014, but suddenly needed it now, when the election campaign is in full swing. Back then she published an article about her trip in which she called Crimea the liberated territory of the Russian Federation and Simferopol [the capital of Crimea] is called a Russian city," the lawmaker said. Kozenko also suggested that Sobchak was simply attempting to incite conflict through her planned trip.
MP Ruslan Balbek, who worked in the Crimean government before taking a seat in the State Duma, said that Sobchak's words could elicit a violent response from the Crimean population. "Ksenia Sobchak with her political views risks causing such an outrage in Crimea that the police would be forced to take her under protection," he said.
Deputy speaker of the Crimean legislature, Yefim Fiks, told reporters that Sobchak should be removed from the presidential polls for her behavior. "It only causes bewilderment that a Russian presidential candidate, a person who intends to rule the whole country, does not know such elementary things, does not know the Russian Constitution in which the Republic of Crimea and the city of Sevastopol are defined as subjects of the Russian Federation," RIA Novosti quoted the politician as saying.
Events took an unexpected turn when comments of bewilderment also began to arrive from Kiev. In particular, Ukrainian Foreign Minister Pavlo Klimkin tweeted that Sobchak's behavior was akin to "political schizophrenia," because she was requesting legal permission for a visit that is part of a campaign for a presidential election which the Ukrainian authorities view as illegal.
On Wednesday morning, Ukrainian news agency UNIAN quoted an unnamed "high-placed source" in the Ukrainian embassy in Moscow as saying that they had not received any messages from Sobchak so far.
It's not the first time Sobchak has achieved notoriety through statements about Crimea. In October last year, shortly before officially embarking on her presidential campaign, she unambiguously revealed her position on the subject. "From the point of international law, Crimea is Ukrainian. Period. Let us move on with our conversation," RIA Novosti quoted Sobchak as saying at a press conference. The candidate reiterated this stance in a November interview with CNN, calling the reunification of Crimea with Russia a violation of international law.