Presidential candidate Sobchak denies being Putin's goddaughter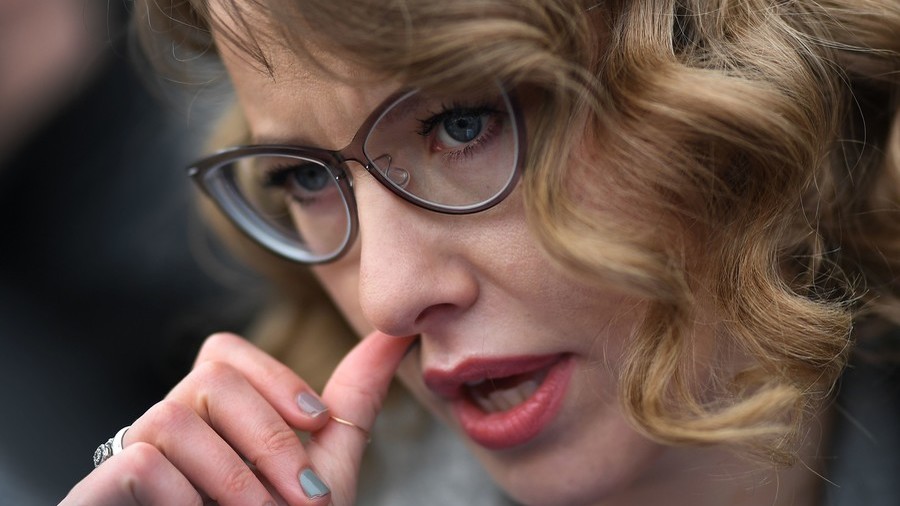 Russian presidential candidate Kseniya Sobchak, a daughter of Vladimir Putin's friend and mentor, has strongly denied reports that she is the incumbent's goddaughter, but admitted Putin was present at her baptism.
"The truth here is very banal. I swear that my baptism at the age of 12 was not really a memorable event… Vladimir Putin was there, among other people, but as my mother says, he was not my godfather," Sobchak said in a recent interview with Ekho Moskvy radio.
The election candidate added that she had not been a very religious person, and agreed to the baptism on her mother's insistence "in exchange for three chewing gums." Sobchak also said that she was not interested in who her godparents were at that time, and only asked her mother about it after pictures of Putin attending the ceremony were published by the media. She did not disclose the identity of her actual godparents.
Sobchak also insisted that she maintains no personal contact with Russia's incumbent president. "I have only met him on sad anniversaries of my father's death. I don't have and I have never had any other connections to Vladimir Putin," she stated.
Ksenia Sobchak's father Anatoly was the mayor of St. Petersburg in the first half of the 1990s, when Vladimir Putin started his political career. The two men have been described as good friends in the media, and Anatoly Sobchak is sometimes portrayed as Putin's "mentor." Sobchak's mother Lyudmila Narusova is a long-serving Russian senator, who currently represents the Siberian republic of Tyva.
Ksenia Sobchak is running for the presidency on the ticket of pro-business party Civic Platform, but her program is based mainly on all-enveloping criticism of the authorities, and she presents herself as a "none of the above" option for those who are disinclined to vote for any of the other seven candidates.