Yabloko founder Yavlinsky gathers enough signatures to face Putin in presidential race – activists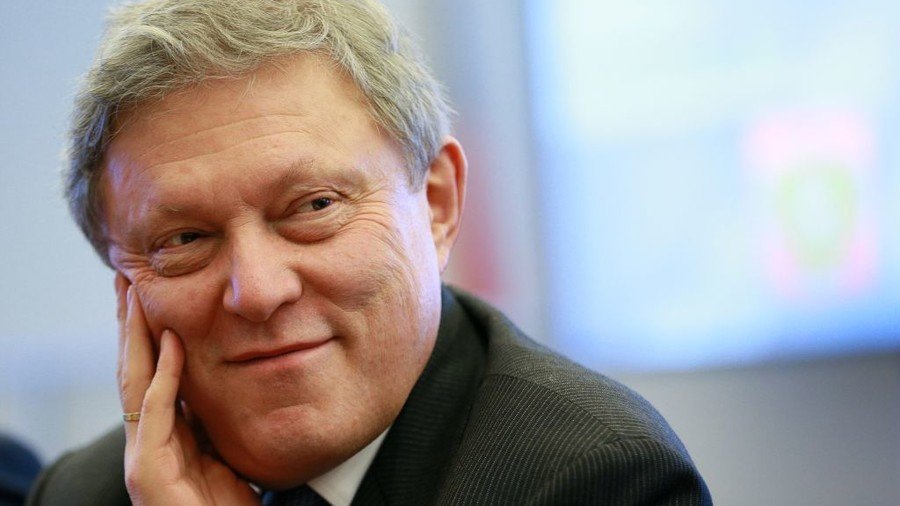 Activists from the opposition Yabloko party said they have gathered more than the required 100,000 signatures for veteran politician Grigory Yavlinsky to be registered as a candidate in the March 18 Russian presidential election.
The party has collected 105,000 signatures in support of Yavlinsky and isn't planning to stop at that, Nikolay Rybakov, campaign head, told RBC. "Yabloko plans to gather 150,000 signatures and – after checking them through the Interior Ministry's database – submit 105,000 sheets to the Central Election Commission," he said.
According to Russian law, candidates from non-parliamentary parties have to provide 100,000 signatures to be registered in the election. The presidential hopefuls have until January 31 to submit their papers to the Central Election Commission.
Yavlinsky, who founded Yabloko back in 1993, told RBC that he estimated his chances of being registered as candidate at "fifty-fifty." The 65-year-old took part in two presidential elections, in 1996 and 2000, but was disqualified from the race in 2012 after providing defective signatures.
If the opposition veteran's participation in the vote is approved, he will become the third registered candidate in the 2018 election after the Communist Party's Pavel Grudinin and Liberal Democratic Party leader Vladimir Zhirinovsky. President Vladimir Putin, running for office as an independent, has already collected over 1 million signatures, although they are yet to be submitted.
Yavlinsky said that during his campaign he will "categorically deny" Putin's policies, which "led to isolation, stagnation of the economy and growing poverty, [and] deprived the citizens of any kind of rights."
READ MORE: Farm magnate Grudinin closes all foreign bank accounts ahead of Russia's presidential election
According to the Yabloko founder, even if he isn't allowed to participate in the election, he won't support the calls for boycott of the March 18 vote, led by opposition activist Aleksey Navalny. The opposition figure was denied registration as candidate over an unserved suspended prison sentence. The move would be futile as there's no minimum voter turnout threshold in the Russian presidential election, Yavlinsky explained.
You can share this story on social media: