Liberal Democrats choose longtime leader Vladimir Zhirinovsky as future presidential candidate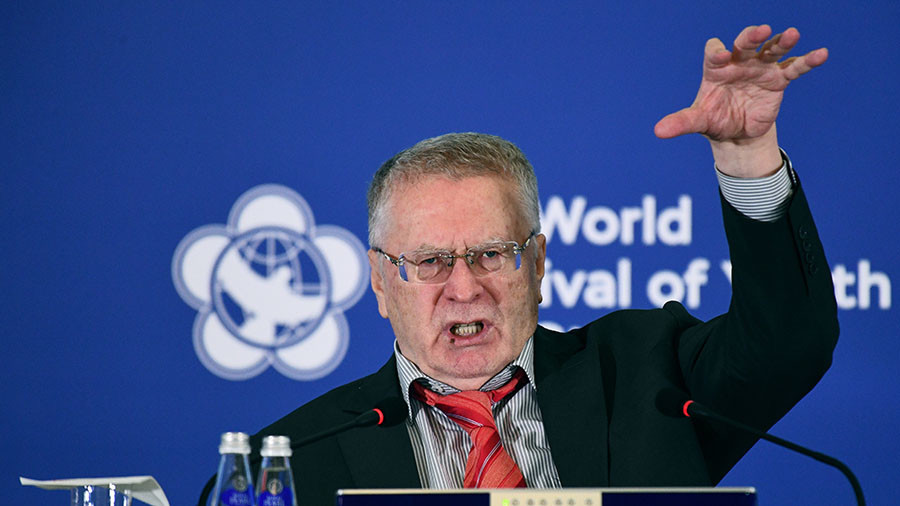 The Liberal-Democratic Party of Russia, LDPR, has chosen its founder and longtime leader Vladimir Zhirinovsky to run for presidency in 2018.
The decision to propose Zhirinovsky as LDPR's candidate was made on Monday at the session of the party's Supreme Council and the party's caucus in the State Duma, Zhirinovsky's son Igor Lebedev told reporters on Tuesday. The decision was passed by a unanimous vote, he added.
Zhirinovsky himself told reporters on Tuesday that his candidacy still had to be approved by the LDPR elections convention scheduled for late December. He added that the nomination made him feel happy and inspired and that the party as a whole had very optimistic expectations regarding the future campaign.
Vladimir Zhirinovsky, who is 71 years old now, was one of the first Russians to publicly announce his intention to participate in the 2018 presidential race – he did it as early as in June 2015. In February this year he was re-elected as LDPR leader and confirmed the presidential ambitions to the party convention, adding that the 2018 race would be his sixth, something unprecedented in Europe (technically it could only be counted as his fifth in the race to lead the Russian Federation, because the very first one dates back to 1991 – when Russia was a Soviet republic).
Zhirinovsky's results in past campaigns have ranged from 7.81 percent of votes in 1991 to about 5.78 percent in 1996, just 2.7 percent in 2000, 9.35 percent in 2008 and 6.22 percent in 2012.
Other likely candidates in the race include the founder of the liberal party Yabloko Grigory Yavlinsky, the head of the Russian Communist Party Gennadiy Zyuganov and two female journalists of socialite background - Ksenia Sobchak and Ekaterina Gordon. Vladimir Putin has not yet publicly announced his plans concerning the elections and neither has the parliamentary majority party United Russia.