'Stop staring at his corpse': Kadyrov urges Lenin's burial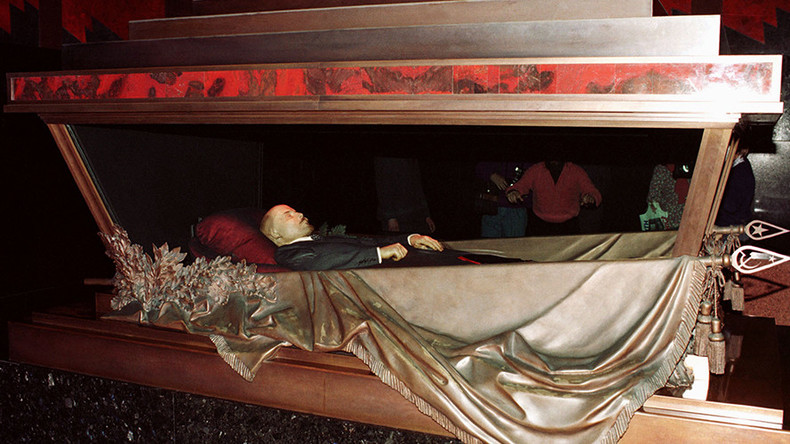 The head of the Chechen Republic has called for Vladimir Lenin's body be taken out of its Moscow mausoleum and properly buried. This would be a "reasonable and humane" step, Ramzan Kadyrov said.
"The issue of Lenin's burial must be resolved by Russian President Vladimir Putin, of course, but I am personally convinced that we should stop staring at a corpse," Kadyrov wrote in his Telegram messenger.
"The time for the head of the revolution's burial is long overdue. This will be reasonable and humane," Kadyrov wrote, adding that the maintenance of the embalmed body costs a lot, but brings no practical result, apart from "a casket with a dead man in it in Russia's very heart on Red Square."
He added that Russian authorities should also organize the burial of the head of Haji Murad – a prominent Islamist rebel who fought against the Russian Empire in the early 19th century and whose head is kept in a St. Petersburg museum to this day.
Kadyrov's statement came soon after Russian upper house Speaker Valentina Matviyenko proposed to call a referendum to decide whether Lenin's body should remain in the mausoleum or be interred elsewhere. At the same time, Matviyenko urged not to hurry with the move, because Lenin's name remains important to a whole generation of Russians.
"I think it's wrong to rush headlong and use brute force in such issues. I'm confident that the reburial will happen one day, but it must happen when the community reaches a consensus on the issue," Matviyenko said in an interview with the Argumenty i Fakty newspaper.
Shortly before that, journalist and socialite-turned-Russian presidential hopeful, Ksenia Sobchak, said in one of her campaign statements that if she gets elected her first decree on the presidential post would be for the removal of Lenin's body from the mausoleum on Red Square. The head of the Russian Communist Party, Gennady Zyuganov, called Sobchak's proposal "disrespect and rudeness" and accused the hopeful of ignoring the will of the nation.
Vladimir Putin's press secretary Dmitry Peskov commented on Kadyrov's proposal on Thursday, saying that the fate of Lenin's body "was not on the agenda of the Kremlin administration."
In early September this year, the Russian government rejected a bill ordering the burial of Vladimir Lenin's remains, because the sponsors of the motion – the populist nationalist parliamentary party LDPR – did not mention the sources of funding for the interment.
You can share this story on social media: