Russian humanitarian missions have helped more than 100 countries, UN Security Council hears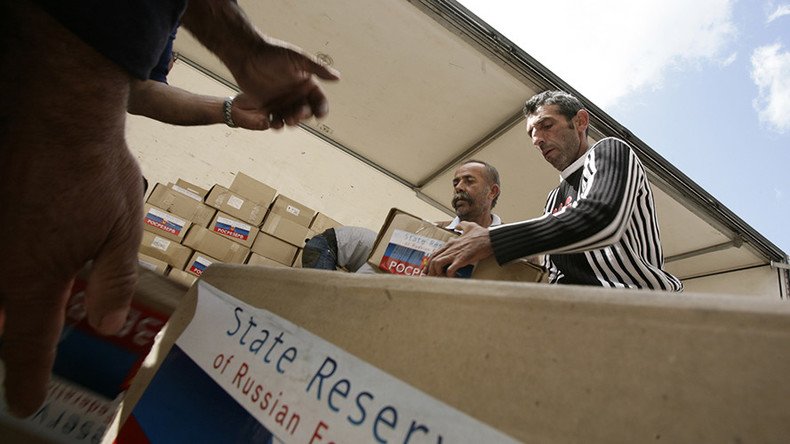 Russia has delivered more than 650 tons of food aid to over 110 countries in the past 10 years, the country's envoy to the United Nations has revealed.
Vasily Nebenzya told a session of the UN Security Council that Russia was spending around $120 million annually to sustain more than 45 humanitarian operations around the globe.
The diplomat also praised the UN World Food Programme (WFP) as one of the country's key partners in delivering and distributing food aid.
"The annual volume of Russian aid within the WFP exceeds $30 million. Apart from that, we are sending significant amounts of humanitarian assistance through the International Civil Defence Organisation (ICDO). That makes another $30 million per year," said Nebenzya.
The main recipients of Russian aid were Tajikistan, Kyrgyzstan, North Korea, Syria, Palestinian Autonomy, Namibia, Kenya, Iraq and Jordan; while Russia had also participated in the school-food deliveries programs in several Central Asian nations, he said.
The Security Council session focused on the problem of famine in nations that are currently affected by armed conflicts, including Yemen, Somalia, South Sudan and parts of Nigeria.
The Russian diplomat noted that over the past four years, his country had allocated about $8 million in aid to these countries and helped to deliver 110 tons of humanitarian cargo to Yemen.
A public-opinion poll released earlier this week by the state-run VTSIOM agency showed that 73 percent of Russians consider it necessary to continue helping Syria after the end of the current conflict.
An even larger proportion of respondents – 75 percent – said that they would like to see Russia continue sending humanitarian aid to Syria.
You can share this story on social media: