4 Ukrainians declared wanted for attacking Russian embassy in Kiev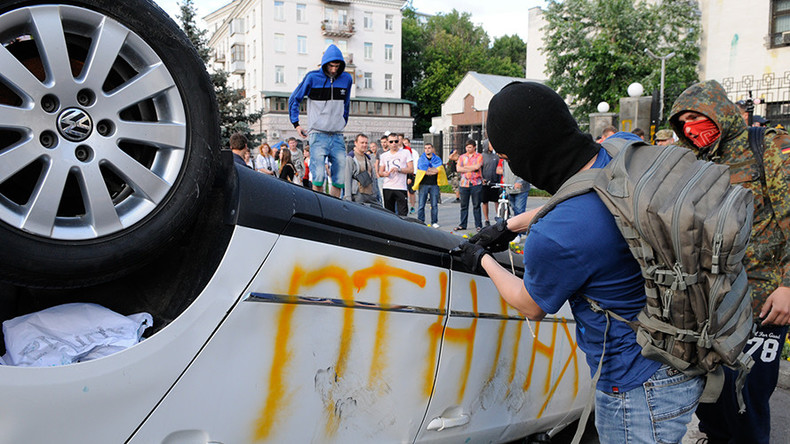 A Russian court has issued arrest warrants on four Ukrainian citizens suspected in taking part in attacks on the Russian embassy in Kiev and consular office in Lvov, as well as of desecrating Russian flags.
Svetlana Petrenko, the spokesperson for Russia's Investigative Committee – responsible for solving especially important crimes – told reporters on Tuesday that the names of the suspects were Vladimir Romantsov, Aleksey Bakay, Vladimir Nazarenko and Vladimir Parasyuk.
Petrenko also said they all faced charges of attacking persons or organizations that are under international protection – in Russia this is a criminal offence punishable with up to 10 years in prison in cases when convicts sought to provoke a war or complicate international relations.
The charges deal with the events of 2014 when groups of Ukrainian radicals attacked the Russian embassy in Kiev and the 2016 attack on Russia's consular office in the west Ukrainian city of Lvov.
Two of the suspects – Nazarenko and Parasyuk – face additional charges of desecrating the flag of Russian Federation – which carries up to one year behind bars.
The spokeswoman also told reporters that though the Ukrainian side had launched own probes into the incident, no one has been brought top responsibility to this day and all requests for legal help from the Russian side have been de facto rejected.
According to the Investigative Committee its agents have collected enough evidence to prove the suspects' guilt in court. The evidence includes videos collected from open sources and the results of forensic tests.
In mid-June 2014, a rally held by hundreds of Ukrainian radicals near the Russian embassy in Kiev turned into a violent unrest. The protesters overturned several diplomatic cars and piled up tires to block entry into the building. They also threw stones, smoke grenades, eggs, and paint at the premises. A Molotov cocktail thrown by rioters caused a minor fire.
According to Russian diplomats who witnessed the events, Ukrainian police attempted to talk to the protesters, but refrained from detaining any of them.
In March 2016, a new wave of riots hit the embassy, along with the consulates in Odessa and Lvov. Angry mobs demanded that Moscow free Ukrainian pilot Nadezhda Savchenko, who was charged over the killing of two Russian journalists and illegal crossing of the Ukraine-Russia border.
The embassy building was pelted with stones, eggs and bottles with paint. Attackers also torched the embassy's cars overnight and threw smoke bombs and flares at the premises, triggering warning shots from security guards.