Scandal erupts after blueprint of Nazi rifle found on newest Kalashnikov monument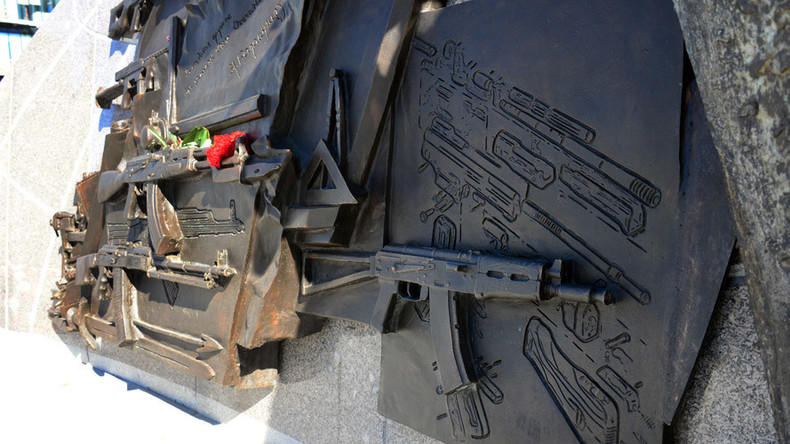 A blueprint of what was supposed to be the iconic AK-47 assault rifle, engraved in the monument to its inventor, Mikhail Kalashnikov, appeared to feature a German firearm. The monument commissioners agreed to fix the error following public uproar.
With just three days after its opening, the monument will undergo a reworking, the Russian Military Historical Society (RVIO) said Friday. The RVIO said they will remove a plate with the wrong blueprint, saying that otherwise they'd have to "explain a lot to those passing the Kalashnikov monument."
READ MORE: Monument to Kalashnikov & iconic firearm unveiled in Moscow (VIDEO)
"We came up with the idea of a monument and ordered it. However, we are not censors who limit an artist's work," Nadezhda Usmanova from the VRIO said in defense. "We didn't approve these details with [the monument's creator] Salavat Scherbakov."
Usmanova added they were thankful to the person who noticed the gaffe.
The uproar flared after a former worker at the Central Museum of the Great Patriotic War in Moscow, Yury Pasholok, pointed out the mistake in his Facebook post, scolding "the boy sculptors." Online enthusiasts picked up the observation, revealing the scheme in fact showed a German Sturmgewehr 44 rifle, developed by Hugo Schmeisser during WWII.
The sculptor Salavat Scherbakov said the monument will be fixed "easily," should the mistake be confirmed.
In the meantime, netizens have grown wary that the mishap could trigger rumors of alleged copying of the AK-47 from the German rifle. However, the RVIO's director was upbeat, saying that "following the sculptor's blunder everybody can see the StG and Kalashnikov are two different weapons."