Russians name security as top foreign policy aim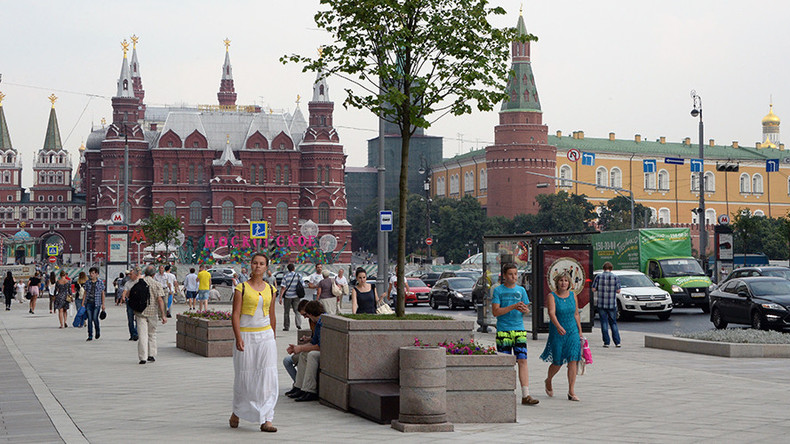 Most Russians see securing a safe and peaceful life as the main objective of their nation's foreign policy, as well as restoring Russia's authority on the international stage, a new public opinion poll has shown.
Fifty-nine percent of Russians see the main goal of foreign policy as guaranteeing a peaceful and secure existence for their country, according to a study conducted by the independent sociological center Levada.
Just under half (49 percent) of respondents mentioned the restoration of Russia's authority in the world as the main aim, while 41 percent said that Russian diplomats and politicians should prioritize the protection of domestic producers in economic conflicts.
The poll allowed respondents to choose multiple answers from a list.
Other priorities mentioned were maintaining friendly relations with the world's leading nations (27 percent), countering the threat from terrorism and settling conflicts in hotspots (21 percent), resisting the expanding influence of the US and its allies (19 percent), and expanding Russia's own influence (14 percent).
The results of the Levada study reflect those of a poll conducted in March this year by the state-run sociological agency VTSIOM. Back then, researchers established that 75 percent of Russians thought that the government shouldn't give in to foreign pressure or change its policies, reasoning that Western economic sanctions are hurting both sides and will eventually be lifted.
Only 18 percent of respondents said sanctions were inflicting serious damage to the Russian economy and that the government must take measures to bring about their cancelation.
In addition, 59 percent of Russians said that they were ready to suffer economic difficulties for the sake of maintaining the current foreign policy. Just over a third – 34 percent – said that they considered the price of current foreign policy strategy to be too high.
You can share this story on social media: