Justice Ministry officially lists Jehovah's Witnesses as banned group in Russia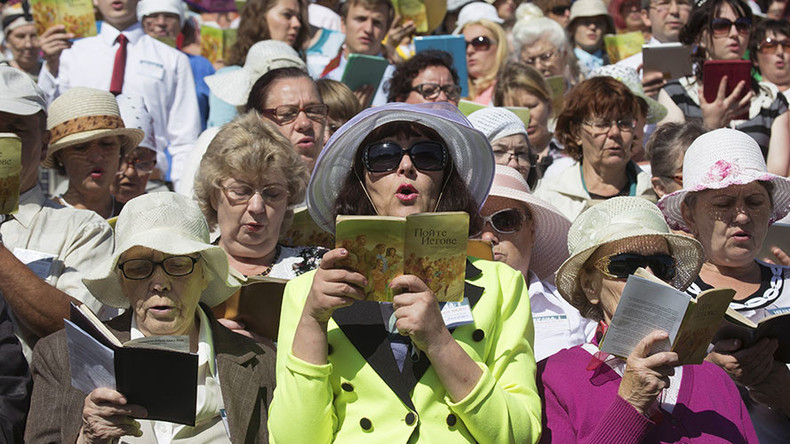 The Russian Justice Ministry listed the Jehovah's Witnesses religious group as a banned extremist organization after establishing that some of their practices could constitute a threat to society and public security.
Announcing the move, the ministry said that it came as a result of a Russian Supreme Court verdict dated April 20, 2017 and the order of the Appeals Collegium of the Supreme Court dated July 17, 2017, in accordance with the Federal Law on Countering Extremist Activities.
The action ends a lengthy legal battle between Russian authorities and the Jehovah's Witnesses that lasted at least since 2004. During the standoff, Russian regional and federal authorities objected to the denomination's rule that does not allow blood transfusions, especially in cases in which adult believers attempt to prevent the procedure from being performed on their children, thus putting their lives at risk.
Lawyers representing the Jehovah's Witnesses argued that Russian law on extremism does not mention blood transfusion in any way and said that all restrictions observed by the members of the faith were derived from the Bible.
The courts rejected this defense, and in April this year, the Supreme Court of the Russian Federation declared the group to be an "extremist organization" and ordered all of its 395 regional branches disbanded and all of their property handed over to the state.
In April, the Jehovah's witnesses said they planned to appeal the ruling in the European Court of Human Rights.
According to a public opinion poll conducted by state-run research center VTSIOM in July this year, 76 percent of Russians support a ban on the activities of Jehovah's Witnesses in the country. Only five percent said they were against the ban.
In the same poll, 53 percent of people who knew about the denomination said that their attitude to it was negative, and 44 percent described it as neutral. 20 percent said that they heard the name Jehovah's Witnesses for the first time during the poll, and 27 percent said that they only heard the name and knew nothing about the group.
When researchers asked those who have a negative attitude to the group regarding their motives, 18 percent called the Jehovah's Witnesses a cult, 12 percent mentioned the obtrusive behavior of the door-to-door preachers, and 6 percent said that the group was coaxing its members to give them money.