Jehovah's Witnesses banned as 'extremist' in Russia, property to be seized – court decision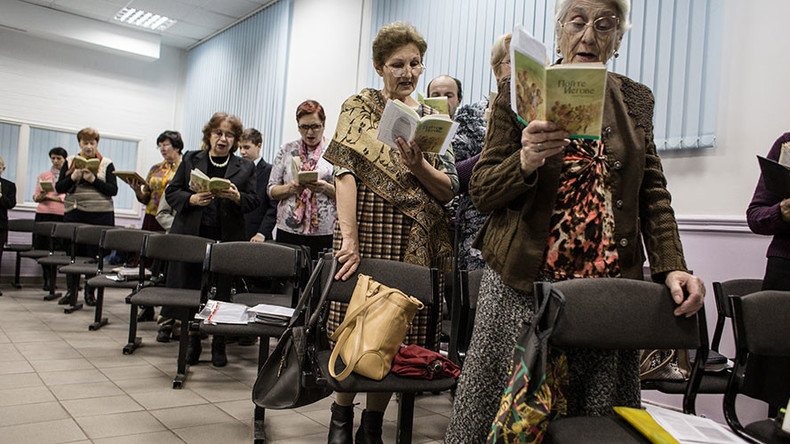 Russia's Supreme Court has banned the Jehovah's Witnesses, declaring it an "extremist organization" and ordering to hand over its property to the state. The Christian group says it is planning to appeal the decision.
Delivering the verdict on Thursday, Judge Yury Ivanenko ruled that all 395 branches of the religious group on Russian territory are subject to disbandment and the property is to be forfeited to the state.
In the run-up to the ruling on its liquidation, based on a lawsuit filed by the Russian Justice Ministry, the Jehovah's Witnesses group has repeatedly found itself in trouble with Russia's anti-extremism legislation. In October last year, a lower court notified the organization of a looming ban if it did not stop engaging in what it considered extremist activity. In January this year, the warning was upheld by the Moscow City Court.
Jehovah's Witnesses leaflets promoting information "posing a threat to health" were provided as evidence by the Ministry of Justice during the hearings, Svetlana Borisova, the ministry's representative said, as cited by RIA Novosti. More than 90 printed booklets of the organization have been found to contain extremist materials.
One of Jehovah's Witnesses strict beliefs – a complete ban on blood transfusions – can potentially endanger the life of a child, argued Borisova. She cited a case when devout followers of the group refused to give consent for the procedure needed by their child.
The present lawsuit was revolving around Jehovah's Witnesses' chief managing organization in Russia, based in St. Petersburg, which is in charge of all its outfits scattered on the Russian territory.
In March, Justice Ministry already suspended the center's activity pending the final decision by the Supreme Court.
Next week, the Moscow City Court will examine the legality of the March suspension. The hearing is scheduled on April 24.
Jehovah's Witnesses, however, deny all the extremism-related accusations, stating that the extremism in question was found in Biblical quotes and alleging that some of the illegal materials were fake evidence planted in their offices.
The group has announced it will contest the ruling in the appellate division of the Russian Supreme Court and is also prepared to appeal to the European Court of Human Rights, if necessary.
"We are greatly disappointed by this development and deeply concerned about how this will affect our religious activity," Yaroslav Sivulsky, a spokesman for Jehovah's Witnesses in Russia, told Reuters.
On its website, the organization claimed that the nationwide ban on its activity could lead "to grim consequences to the adherents of different denominations as well as for Russia's international image."
If the Supreme Court's decision is upheld by the three-judge appellate panel, Jehovah's Witnesses may face from two up to six years in jail if they defy the court ruling and continue operating in Russia.
You can share this story on social media: