'Mendacious cynicism': Senior Russian MP blasts Poland for distorting WWII history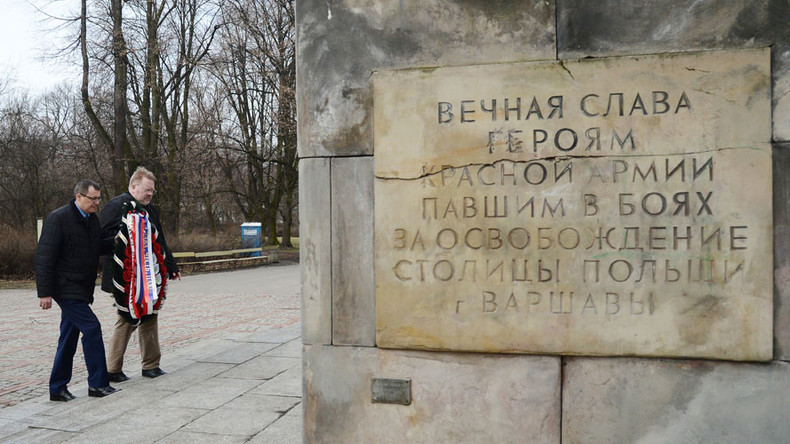 The deputy speaker of the Russian State Duma has criticized Poland's foreign minister for his statement that the USSR and Nazi Germany were equally responsible for the start of WWII, noting that this position totally matched that used by Nazi propaganda.
"In his mendacious cynicism, the head of Poland's Foreign Ministry has already reached the position of the chief Nazi ideologist [Joseph] Goebbels – 'the more monstrous the lie, the more willingly people will believe it,'" MP Irina Yarovaya (United Russia) was quoted as saying by RIA Novosti.
The comment came after last week' comment by Polish Foreign Minister Witold Waszczykowski, in an interview with Wpolityce news portal, that the Soviet Union and Nazi Germany both contributed greatly to the start of the Second World War and should share the responsibility for this.
"History has already put everything in its place. What is a truthful historical fact is the victory of the Soviet people and Soviet soldiers over Nazism, as well as the liberation of Europe. And the skeletons in the Polish politicians' closets will have to be removed by their successors who they are now dragging into the world of lies and aggression," Yarovaya said.
Earlier, Russian Senator Aleksey Pushkov tweeted a reaction to Waszczykowski's statement.
"No, Mr. Waszczykowski, the beginning of the Second World War must be considered the Munich Conference at which the West surrendered Czechoslovakia to Hitler and Poland got a part of that country," Pushkov wrote.
Нет, г-н Ващиковский. Начало второй мировой надо вести от Мюнхена, когда Запад отдал Чехословакию Гитлеру, а Польша урвала свой кусок от нее

— Алексей Пушков (@Alexey_Pushkov) August 11, 2017
The current crisis in Russia-Poland relations started in late June as the Sejm passed a set of amendments to a Polish law on 'decommunization' that outlaw any propaganda of totalitarian regimes through any media, including the mentioning of building names or other architectural sites.
If the legislation is enacted in its current form, it could result in the destruction of memorials to Red Army soldiers who died liberating Poland from the Nazis.
The motion has caused an angry response from Russian officials and politicians, who described it as an attempt to rewrite history and blacken the memory of Soviet troops.
The Russian Foreign Ministry reacted with an official statement in which they warned that enforcing the new bill would violate a 1994 agreement between the two nations which provides total protection to monuments that stand near the graves of Soviet military servicemen.
In a second statement on the subject, Russian diplomats promised that Moscow would take reciprocal measures if Poland removes monuments to Soviet Army soldiers.
Also in July, the Russian State Duma and the Israeli Knesset passed a joint address to European parliaments, denouncing the Polish bill as an insult to the memory of Soviet soldiers and Holocaust victims.