Moscow vows asymmetrical retaliation in response to Polish monuments bill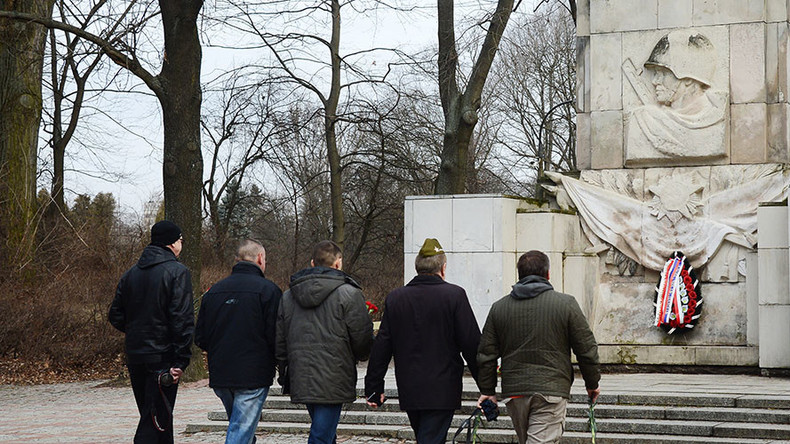 The Russian Foreign Ministry has said Moscow will take reciprocal measures if Poland removes monuments to Soviet Army soldiers in line with a recently passed law.
"Polish authorities must realize that their unfriendly actions in the memorial sphere will not be left without consequences," the ministry said in a statement to Izvestia daily. "Adequate reciprocal measures will be taken against the Polish side and these measures could be of asymmetrical character."
Diplomatic sources added that the reciprocal sanctions could target particular Polish politicians who sponsored the bill, which could see the dismantling of monuments to Soviet soldiers who died while liberating Poland from the Nazis. Moscow could also use economic leverage as well as intensive work in various international organizations to attract attention to the issue.
The head of the Russia's upper house Committee for International Affairs, Senator Vladimir Djabarov, said that he would support any restrictive measures against Poland proposed by fellow lawmakers.
Last week, the Russian upper house asked President Vladimir Putin to introduce restrictive measures against Poland in response to a recently approved bill ordering the destruction of monuments to Soviet soldiers.
One of the senators who prepared the address, Oleg Morozov, noted that reciprocal restrictions could come in the form of a visa ban for certain Polish citizens. He also noted proposals to move the monuments to Russia instead of destroying them.
However, Kremlin press secretary Dmitry Peskov said that the president had not made any decisions concerning a possible response to the Polish bill.
The Russian reaction concerns the set of amendments to Polish law on 'decommunization,' which was passed by the Sejm in late June. The amendments outlaw any propaganda of totalitarian regimes through any media, including the mentioning of building names or other architectural sites. If the legislation is enacted in its current form, it could result in the destruction of memorials to Red Army soldiers who died liberating Poland from the Nazis.
The motion has caused an angry response from Russian officials and politicians, who described it as an attempt to rewrite history and blacken the memory of Soviet troops.
The Russian Foreign Ministry reacted with an official statement, saying that the recent actions of the Polish government could further strain relations between the two nations. Russian diplomats also noted that the new Polish bill could violate a 1994 agreement between the two nations which provides total protection to monuments that stand near the graves of Soviet military servicemen.
The Russian State Duma and the Israeli Knesset passed a joint address to European parliaments, denouncing the Polish bill as an insult to the memory of Soviet soldiers and Holocaust victims.
You can share this story on social media: