MP seeks ban on free porn sites in Russia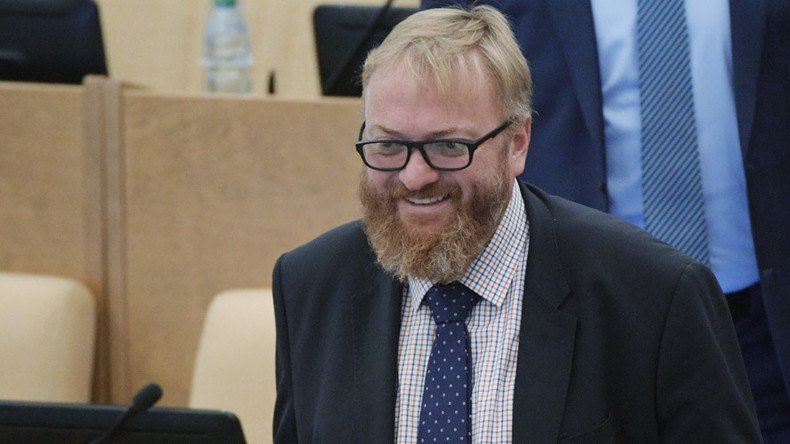 Russian MP Vitaly Milonov, best known as the main sponsor of the ban on promoting "non-traditional" sex to minors, has asked the Communications Ministry to develop a new age verification system for internet users and ban pornography sites that refuse to use it.
"I am asking you to consider the possibility of changing the existing way of operation of all websites specializing in erotica and pornography on the territory of the Russian Federation," Milonov wrote in his letter to the ministry, quoted by RIA Novosti.
"It is necessary to introduce a ban on the work of these websites in free access mode and also to introduce an effective age verification mechanism and a ban on unrestricted advertising of such websites on the internet," he added.
The lawmaker also proposed blocking access to all free pornography sites in Russia before an effective mechanism of age verification is developed and implemented.
Milonov warned that current laws fail to prevent underage internet users from visiting websites with erotic or pornographic content, and that such content can cause psychological damage to children.
He quoted several studies in psychology and psychiatry that stated that an early interest in sex could cause various harm to a child's development and emphasized that children themselves could not evaluate these potential dangers.
Milonov noted that a total ban on free pornography sites was one of the most effective measures tested by foreign nations to regulate children's access to such content, without mentioning any particular country that has tried it.
Milonov began his political career in the early 1990s but gained worldwide attention a few years ago as he lobbied the bill banning any propaganda of "non-traditional sex" to minors, usually described in the mass media as the "Russian gay propaganda ban."
His crusade did not stop there – even after the bill was signed into law, Milonov continued to describe homosexuality as a bad habit or illness in interviews and suggested that it could be "cured" with fasting and prayer.
His other proposals also matched the staunch pro-Orthodox stance – such as a 2012 suggestion to grant human embryos the same rights as living persons or the more recent request to investigate Russian freemasons for possible subversive activities.
You can share this story on social media: