Boosting Russia's combat readiness at heart of new Defense Ministry education reform plan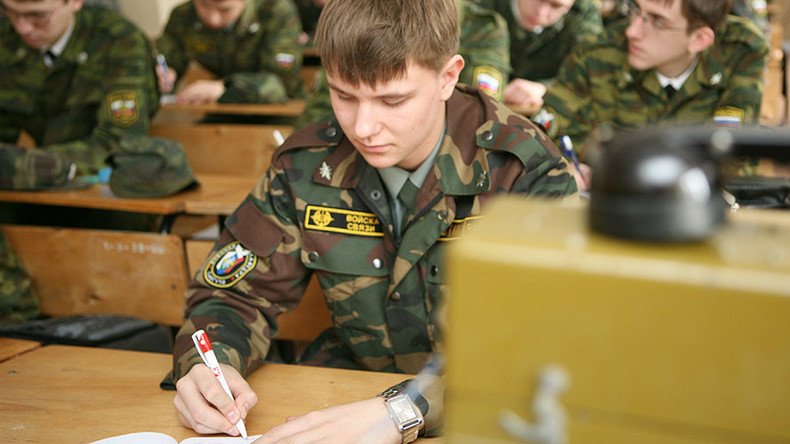 The Russian Defense Ministry aims to boost combat readiness through new plans for major reform in reserve officer training, which would see military departments in universities replaced by dedicated centers offering improved training for various specialists.
In explanations attached with the draft, the main sponsor of the bill, Deputy Defense Minister Nikolay Pankov, said that the current system of reserve officer training with military departments in a number of regular civilian universities is obsolete.
The official added that the military departments should be replaced with training centers that would prepare specialists based on specific requests from the Defense Ministry. Students from civilian universities would be admitted to the centers after passing exams and tests on their mental state and physical form. In addition, officials at the centers would be able to compare the curricula of various universities and select students who, in their opinion, are better suited to the role of modern military officer or sergeant.
The main aim of the reform was stated as increasing the combat readiness of Russian forces, in particular through giving reserve officers extensive training in modern types of weapons and hardware, and eliminating the need for re-training in the event of mobilization.
A source in the Defense Ministry told the Life.ru news site that the bill also contains a provision that would allow students to sign contracts for military service before beginning their education, in which case the ministry would offer them a scholarship for the duration of their studies.
Russian law obliges all male citizens aged 18-27 to serve in the military for one year. However, male students of certain universities can skip active service if they choose to study a military profession in their university's military department and then complete a month-long exercise in a special military camp.
According to new rules adopted in early 2016, citizens summoned for one year of compulsory service now have the right to become contract soldiers immediately, but for double the term. This is part of a larger reform started in 2008 and aimed at a full transition to professional military forces.
In April 2015, Russian Defense Minister Sergey Shoigu told reporters that for the first time in Russian history, the number of contract servicemen exceeded the number of conscripts – 300,000 to 276,000.
The Defense Ministry began a program in 2013 to have dedicated research units manned with conscripts but engaged in research and development of weapons and other military hardware, in particular computer command systems. Currently there are seven such units consisting of various types of troops – from military medics to military command structures and space forces.
According to Defense Ministry reports, the program has been successful – members of the research units have already registered scores of technical innovations, written dozens of computer programs, and published hundreds of research papers in specialist magazines.
You can share this story on social media: