Duma approves 10-year ban on civil service for draft dodgers
Published time: 6 Jul, 2017 13:34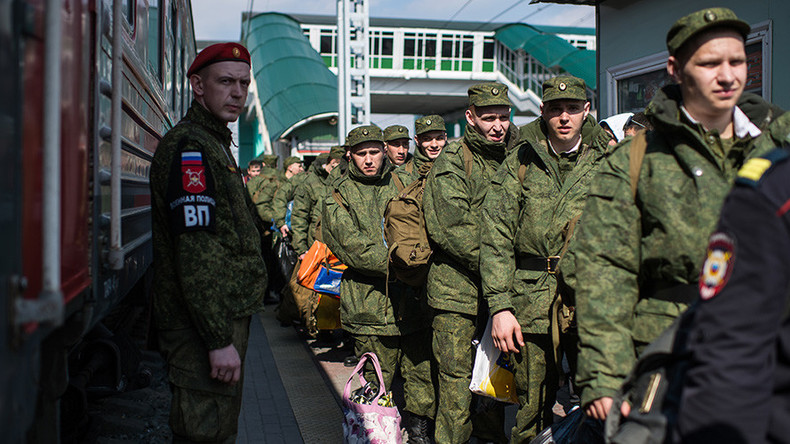 The Russian Lower House has approved in the second reading a bill that introduces a 10-year ban on work in state agencies and municipal organizations for people who evade the military draft without a valid excuse.
According to the current draft, the 10-year period starts from the moment a special commission with a local conscription station issues a statement establishing that a person did not perform obligatory military service and had no legal grounds to avoid it. The document allows the person to make their case before the commission as well as appealing the commission's decision in court.
The bill would also require a civil servant to be dismissed as soon as it becomes known that the person avoided the military draft.
The bill was drawn up to replace an act that ordered a lifetime ban on state service for draft dodgers, after Russia's Constitutional Court recognized the act as discriminatory in 2014. The court said in its ruling that even the Criminal Code has certain periods after which convicts are considered equal in rights with other citizens (after the sentence is served and restrictions on taking certain positions or professions expire) and demanded that the law on draft dodgers was altered accordingly.
The initial draft proposed a five-year ban on state service for draft dodgers, but after the first reading in the Lower House, lawmakers decided to increase it to 10 years. They also rid the bill of an article that additionally punished draft dodgers with a five-year ban on leaving Russia.
The main sponsor of the bill, the deputy head of the State Duma Committee for Defense, Andrey Krasov, told lawmakers that the main purpose of his initiative was to "strengthen the prestige of the military service."
Conscription in Russia entails one year of mandatory service for all male citizens aged between 18 and 27. Alternatively, they can do a three-year state service stint or receive deferment for health reasons.
Draft dodging was an acute problem in the early and mid- 2000s, but over the past decade the situation has improved, as the term of obligatory military service was cut by half and the number of contract soldiers in the forces was increased significantly. The defense ministry has taken other steps to make military service more attractive to young people, such as setting up special "science companies" that allow gifted soldiers to perform scientific work for the defense sector.
The problem of draft dodging, however, remains. In December 2014, Chief of General Staff General Valery Gerasimov told reporters that the average under-manning in the forces stood at about 10 percent.