United Russia pushes for greater transparency of political sponsors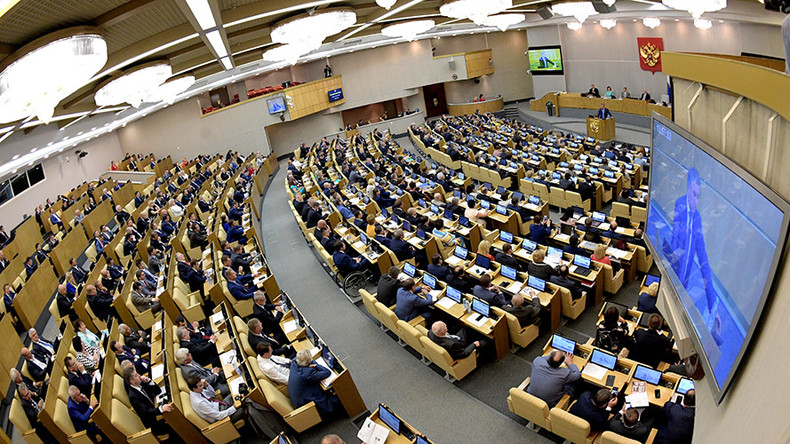 MPs from parliamentary majority party United Russia have drafted a motion that, if passed, would limit the size of membership fees and oblige political parties to disclose the names of those paying such fees, in an effort to boost transparency.
"Transparency in the bodies of power, political forces and officials at all levels is one of the key principles of the national plan and the national strategy on countering corruption," the author of the draft, MP Anatoliy Vyborniy, said in comments with Izvestia daily.
"This is the reason behind the proposed legislative changes. We must clearly understand what financial sources are used by various political parties and what forces are behind them."
He also wrote in an explanatory note attached with the bill that the proposed changes are in line with the recommendations issued by the Group of States against Corruption (GRECO) - the anti-corruption monitoring body of the Council of Europe.
The document sets a maximum limit on membership fees paid by political party members at 4.3 million rubles (about $72,000 at current rate) per person per year.
It also charges the Central Elections Commission with the task of setting and updating the maximum size of a donation, entry fee and membership fee, upon exceeding which the party would have to disclose the source of the money in its annual official report.
Currently, Russian law sets a maximum amount on annual donations to a political party by a private person (the limit is the same as proposed in the bill – 4.3 million rubles), but does not regulate the entry or membership fees paid by party members.
The law also states that political parties that have overcome a 3-percent threshold in federal parliamentary elections are entitled to state sponsorship proportionate to the number of votes received.
In late 2016, the figure for this sponsorship was increased from 110 to 153 rubles ($1.85 to $2.55) per vote, in order to support opposition groups which won few parliamentary seats in the last elections. The bill is being prepared jointly by all parliamentary parties, but as United Russia currently holds the overwhelming majority of seats in the State Duma, it has total control over what drafts can pass.
The Central Elections Commission said in comments that it considered United Russia's bill on regulation of party membership fees timely and necessary. However, deputy chairman of the commission, Nikolai Bulayev, told Izvestia that fees and donations from private persons played a relatively small part in the combined budget of Russian parties. In 2016, 43 percent of this money came from the state and 40 percent came from corporate sponsors.