'Not a holy cow': Russian MP seeks sanitary sanctions on McDonald's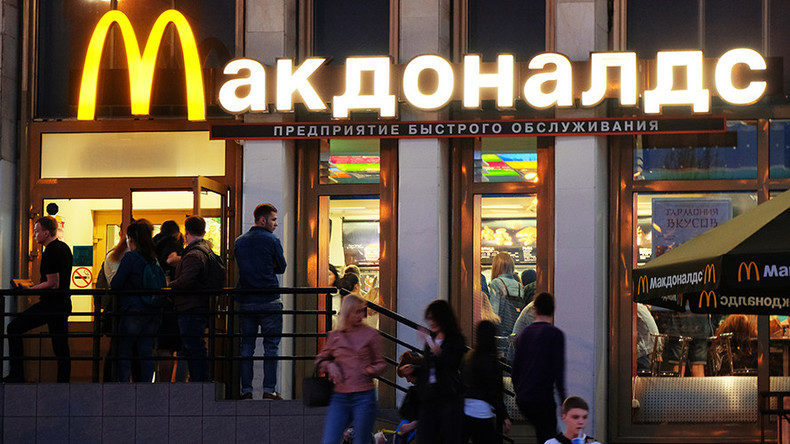 One Russian senator was so disturbed by viral reports featuring dirty kitchen conditions at a McDonald's restaurants in the US that he proposed imposing "sanitary sanctions" on the fast food chain.
"After this scandal with McDonald's we could start from imposing targeted sanitary sanctions against this company. It is not a 'holy cow,'" Senator Aleksey Pushkov tweeted on Wednesday.
The comments came soon after a man who described himself as a McDonald's employee from Louisiana posted a set of pictures on Twitter which he said showed the interior of one of the fast food giant's restaurants. The images contained kitchen machinery, including an ice cream machine, covered in decomposing fat or slime as well as dirty floors with what looked like pools of grease.
The pictures quickly went viral and were reposted by several mass media outlets, mostly British tabloids.
McDonald's press service has not yet reacted to the reports.
However, the author of the initial photos has already tweeted that he had been fired, without citing the reason. He also wrote that this was his plan from the very beginning.
McDonald's was among the first Western corporations to enter Russian markets after the collapse of the Soviet Union, and today is spread all over the country, employing tens of thousands of staff and selling over $1 billion in fast food through over 400 outlets every year.
However, Pushkov's hint was not the first time Russian politicians or officials have targeted the chain. A few years back, Russian consumer rights agency Rospotrebnadzor reported multiple violations of sanitary rules in the sourcing of food and waste disposal at McDonald's restaurants in Moscow. Three points were temporarily closed and a major nationwide inspection was launched as mass media speculated over the possibility of a ban on McDonald's operations in Russia.
A short time later, Russian Deputy Prime Minister Arkady Dvorkovich issued a statement to assure people that the authorities had no plans of banning the iconic US chain.