'Double damage': Russian senator warns Trump over new sanctions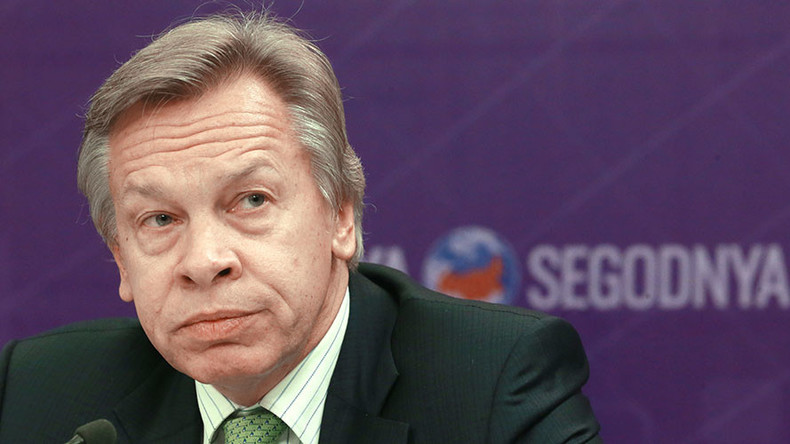 A senior Russian senator has warned US President Donald Trump that new sanctions against Russia will damage Washington's relations with Moscow and the EU, and that they are unlikely to quell the anti-Trump factions within the US.
"If Trump signs the sanctions bill, he will not calm down his enemies – they desire his impeachment. But he will inflict double damage – to relations with Russia and the European Union at the same time," Aleksey Pushkov tweeted.
Если Трамп подпишет закон о санкциях, своих врагов он не успокоит- они жаждут импичмента. Но нанесет двойной ущерб - и отн.с Россией, и с ЕС

— Алексей Пушков (@Alexey_Pushkov) 23 июля 2017 г.
"New sanctions against Russia will never become a success story for Trump's administration – they will only put it at loggerheads with the EU and block any normalization of relations with Russia," the senator wrote in a subsequent tweet.
The comments came soon after US Republicans and Democrats on Saturday agreed a bill that, if passed, would introduce additional sanctions on Russia and complicate any future easing of anti-Moscow restrictions by the US president.
The new sanctions are a part of the Countering Iran's Destabilizing Activities Act, which also targets North Korea. Among the new anti-Russia proposals, the legislation aims to introduce individual sanctions for investing in Russian pipeline projects. It also outlines steps to hamper construction of Russian giant Gazprom's Nord Stream 2 gas pipeline project.
The House is set to vote on the proposed legislation Tuesday, and it would also need to be signed off by the president.
EU authorities have already urged US lawmakers to coordinate their anti-Russian actions with European partners. "Unilateral measures" could undermine transatlantic unity and have "unintended consequences," the European Commission warned in a special address.
Russian President Vladimir Putin's press secretary, Dmitry Peskov, said Saturday that Moscow takes an "extremely negative" view of the new developments.