Russian investigators launch fresh probe into war crimes of Ukrainian military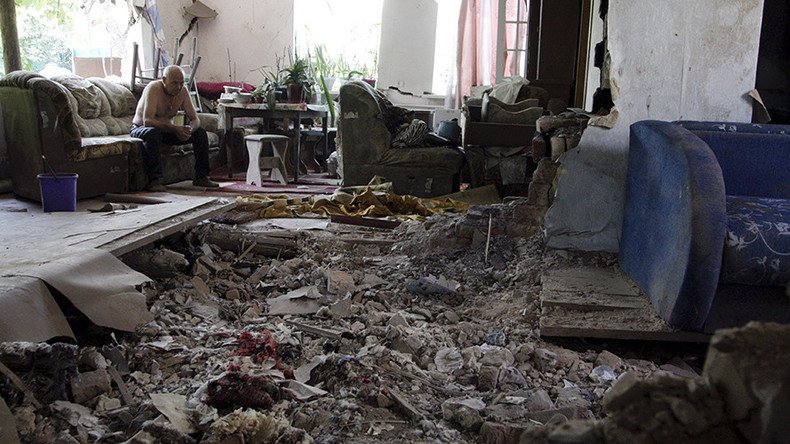 Russia's federal agency for investigating high-profile crimes has opened a criminal case into the recent shelling of Donetsk residential areas by the Ukrainian military, resulting in casualties among civilians.
"A case has been started into the crime described in the article 365 of the Russian criminal code – the use of banned methods of warfare. Investigators suspect that Ukrainian military servicemen have again violated the ceasefire agreement signed by the three-party contact group and ordering ceasefire in certain parts of the Donetsk and Lugansk republics as well as withdrawal of heavy weapons," RIA Novosti quoted the Investigative Committee's chief spokesperson, Svetlana Petrenko, as saying.
She noted that investigators had reason to believe that at about 23:00 local time on July 10, the Ukrainian military and National Guard used heavy artillery to attack civilian infrastructure in the Petrovskiy district of the city of Donetsk. As a result, several residential buildings were completely destroyed and two people – a man and a woman – were wounded.
"The motive of this especially grave crime was the hatred of Ukrainian servicemen caused by the Donbass residents' refusal to recognize the current Ukrainian authorities as legitimate," Petrenko said.
The Russian Investigative Committee has previously initiated criminal cases against Ukrainian officials and military officers.
In August 2016, the agency charged the Ukrainian defense minister and several top military commanders with the use of banned methods of warfare. Investigators claimed to have obtained sufficient proof that crimes against civilians in the self-proclaimed republics of Lugansk and Donetsk had been committed on the orders of senior Ukrainian military commanders.
In September 2016, the Investigative Committee opened cases against Ukrainian military commanders over the attempted genocide of Russian-speakers in the self-proclaimed Donetsk republic.
In late 2016, the agency also charged two senior officers of the Ukrainian Defense Ministry with attempted murder after establishing that their units had deliberately and repeatedly shelled Russian territory in 2014.
The most recent cases were opened in May of this year. The Investigative Committee said it suspected Ukrainian servicemen and officials for the indiscriminate use of artillery in the self-proclaimed Donetsk Republic that resulted in civilian casualties – one man was killed and four others sustained injuries.
You can share this story on social media: