Ukrainian defense officials face criminal charges in Russia over Donbass genocide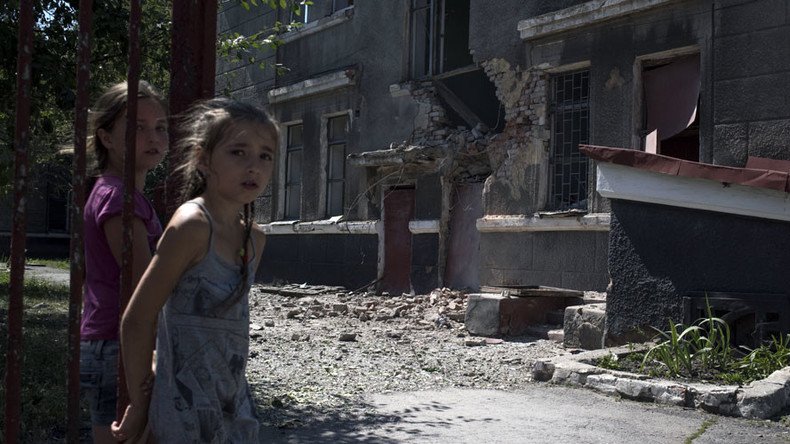 Russia's Investigative Committee has launched criminal cases against Ukrainian Defense Ministry and General Staff officials over the genocide of Russian-speakers in the self-proclaimed Donetsk republic.
The committee, which is Russia's top federal law enforcement agency specializing in cases of special state importance or public interest, released a statement saying that it had opened an investigation into the actions of Ukrainian Defense Minister Stepan Poltorak, Chief of General Staff Viktor Muzhenko, current and former commanders of the Ukrainian ground forces Anatoly Pushnyakov and Sergey Popko, and the head of the Ukrainian National Guard, Yuri Allerov.
All of these Ukrainian officials face charges of "genocide of an ethnic group of Russian-speaking people, including minors, residing in the self-proclaimed People's Republic of Donetsk."
READ MORE: Russian investigators launch war crimes case against Ukrainian defense minister

Russian investigators reported that they are in possession of evidence showing that, between January and August of 2016, the abovementioned Ukrainian officials issued orders to their subordinates in the military and national guard directing them to use heavy weapons to destroy civilian infrastructure in the Donetsk republic and "completely or partially eliminate the ethnic group of Russian-speaking people, including minors." At least 9 people were killed and 110 more were wounded as a result, including 9 children. The Ukrainian military also destroyed civilian infrastructure and at least 279 residential buildings.
The Investigative Committee has also opened a separate criminal case to investigate banned means and methods of warfare allegedly used by Colonel Aleksandr Zhakun, the commander of the 14th Motorized Brigade of the Ukrainian Military Forces.
Investigators accuse the officer of organizing the shelling of the Donetsk Republic's Yelenovka checkpoint that took place in April of 2016, in which four civilians were killed and seven others wounded.
The Russian agency also reported that the probe is part of a major investigation looking into 53 separate instances of crimes against humanity allegedly committed by Ukrainian military and police in the southeast of the country.
The broader investigation was launched in late August of this year soon after Ukrainian Prosecutor General Yury Lutsenko announced that he had opened cases against Russia's defense minister and 17 other Russian military and law enforcement officials. Lutsenko claimed at the time that the charges amounted to "crimes against the national security of Ukraine," but provided no details.
In August of last year, Russia's Investigative Committee published a major report on war crimes committed by Kiev's military and volunteers in Donbass, which has been dubbed the "White Book." It was based on evidence collected by the agency during probes into cases in which Ukrainian authorities and volunteers were suspected of utilizing outlawed methods of warfare. The "White Book" contains eyewitness testimonies from participants in these events, as well as photos and other materials presented by international organizations.
READ MORE: Russian investigators present new 'White Book' detailing crimes of pro-Kiev forces in Donbass

You can share this story on social media: