Russian investigators launch war crimes case against Ukrainian defense minister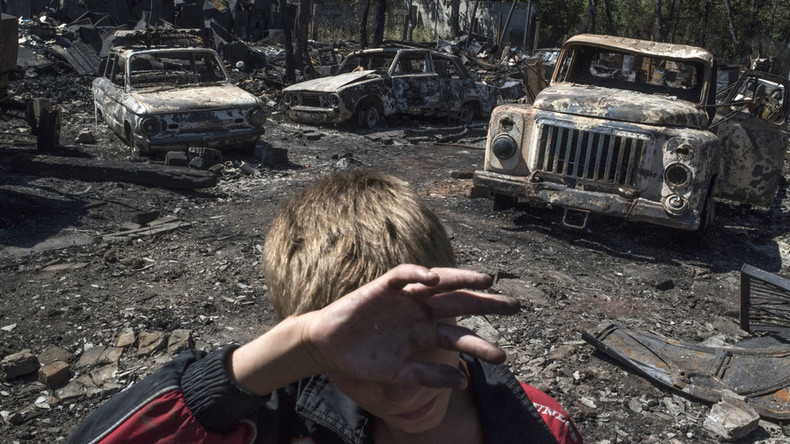 Russia's Investigative Committee has started a criminal case against the Ukrainian defense minister and several top military commanders over charges of using banned means of warfare in civilian areas in the conflict in Donbass.
In a statement published on the agency's website, the Investigation Committee said it had obtained enough proof that crimes against civilians in the self-proclaimed republics of Lugansk and Donetsk had been committed on the orders of top Ukrainian military commanders.
This allowed investigators to launch criminal cases against Ukrainian Defense Minister Stepan Poltorak, Chief of the General Staff of the Ukrainian Defense Ministry Viktor Muzhenko, the former and current chief commanders of the Ukrainian Ground Forces, Anatoly Pushnyakov and Sergey Popko respectively, as well as the commander of the Ukrainian National Guard, Yuri Allerov. They all are suspected of sanctioning the use of banned methods and means of warfare – a crime punishable by up to 20 years in prison.
The Investigative Committee also stated that Ukraine had repeatedly violated the ceasefire agreement signed on February 15, 2015, and that during these violations Ukraine's National Guard used heavy artillery to deliberately destroy various installations of civilian infrastructure and indiscriminately used heavy weapons in populated areas, killing and injuring civilians. At least seven civilians were killed as a result of these actions and 74 were wounded, including seven children.
'Ukrainian PM should be tried for war crimes' – Russian investigators
The news of the case came one day after Ukrainian Prosecutor General Yury Lutsenko announced he had started cases against the Russian defense minister and 17 more Russian military and law enforcement officials. Lutsenko said the charges brought against the representatives of the Russian authorities amounted to "crimes against the national security of Ukraine" but provided no details.
The Investigative Committee is Russia's federal law enforcement agency specializing in high-profile cases. The committee organized a special group for investigating war crimes committed in Donbass soon after the war in this region began in 2014. This agency has launched about 60 criminal cases already, but actual investigations are being hampered by Ukraine's refusal to cooperate, according to the committee's spokesman, Vladimir Markin.
In August 2015, the Investigative Committee presented a major report on war crimes committed by Kiev military and volunteers in Donbass, dubbed the 'White Book'. It was based on evidence collected by the agency during the probes into cases where Ukrainian authorities and volunteers were suspected of using outlawed methods of warfare. The evidence includes testimony of eyewitnesses and participants of these events, photos and various materials presented by international organizations.
READ MORE: Russian investigators present new 'White Book' detailing crimes of pro-Kiev forces in Donbass