'Turn for the worse': Russian envoy blasts NATO's latest steps in Europe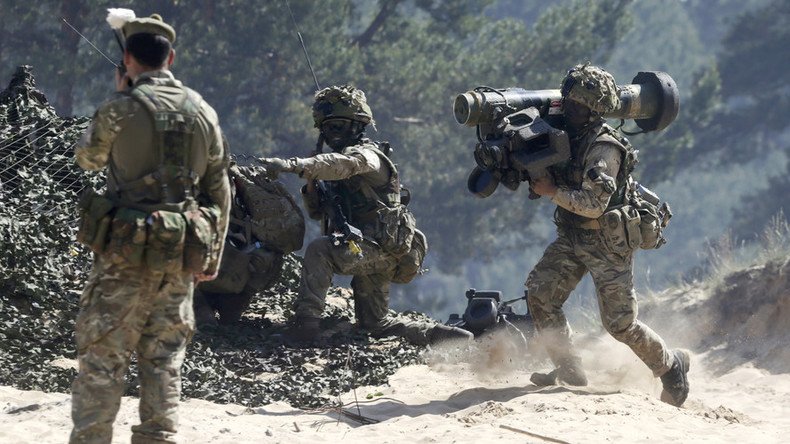 Russian permanent representative with NATO has described the alliance's moves to increase its military presence in Europe as a contribution to the 'balance of threats' that harms international security, as well as attempts to mend relations.
"A quality change for the worse has happened, for the first time in many years the security in Europe will not be determined by restraining measures and efforts to ensure security without accenting the military means, but by imposing and maintaining a certain 'balance of threats'," Aleksandr Grushko was quoted as saying by RIA Novosti.
The Russian diplomat added that the situation became even more dangerous because the increase in NATO's military presence in Europe came along with anti-Russian propaganda and general anti-Russian policies. Grushko said that Russia saw no signs of NATO's readiness to stop its eastward expansion and therefore Moscow has every reason to suspect that this drive is about to continue.
The comment came in the wake of NATO summit in Brussels that saw no changes in the bloc's policies towards Russia, according to the envoy.
"We did not expect anything new, because all decisions concerning Russia have been made earlier. They were made in Wales and in Warsaw," Grushko said referring to the two previous NATO summits.
"I can confess that we are more interested in real action on the ground rather than words pronounced at summits," he said.
"This is all already known – they will now complete the formation of four battalions and reinforce the navy groups in the Baltic and Black Seas. Every day we receive reports about new facilities being built in Eastern European nations – construction is either started or already completed. They reinforce the southern flank – US and British forces have been deployed to Romania, multinational brigades are being created there. This is the picture that will determine the military security structure in the region," Grushko stated.
Russian officials have repeatedly voiced concern over NATO activities near Russian borders and other unfriendly steps. The situation aggravated after in April 2014, NATO suspended all practical co-operation with the Russian Federation.
At the 2016 NATO summit in Warsaw, NATO member-states agreed to boost their military presence in Eastern Europe and the Baltic region to levels not seen since the Cold War – posting four rotating multinational battalions to Estonia, Latvia, Lithuania, and Poland.
In January 2017, NATO deployed to Europe massive quantity of military hardware as well as 4,000 additional troops from the US. In February 2017, seven NATO member states conducted the Sea Shield naval drills off the Ukrainian coast in the Black Sea.
After these latest events, President Vladimir Putin accused NATO of meddling in Russian affairs and trying to provoke a conflict. NATO, with its "newly-declared official mission to deter Russia," poses a threat to global security, Putin said.
"This is the goal behind the expansion of this military bloc. It happened before, but now they have found a new justification which they believe to be serious," Putin said at a meeting with officers from Russia's Federal Security Service (FSB).
You can share this story on social media: