Orthodox Church presses for total abortion ban in Russia – report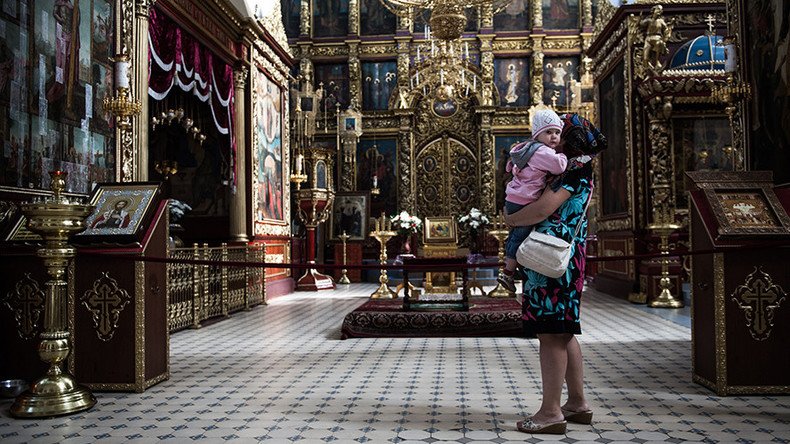 A representative of the Russian Orthodox Church has urged members of the lower house Commission for the Protection of Christian Values to impose a total ban on abortion, according to reports.
Archimandrite Theothilactes attended the first session of the commission in the newly-elected State Duma and said that certain Russian laws needed urgent changes, according to news site RBC.
"Abortion must be made equal to murder. Attention must be paid to this bill and eventually it must be passed," RBC quoted him as saying.
The cleric also said that the Russian law that forbids parents to use violence against their children contradicts the Holy Scripture.
"We should not allow any bans on traditional upbringing in a Christian family, any attempts to make children equal to parents. We need to introduce amendments to this law," he said, according to RBC.
The lower house working group for the protection of Christian values unites 46 MPs from various parliamentary factions. Its main purpose is to evaluate current Russian laws in the context of Christian values, and to initiate new bills that serve this purpose. Members of the commission are also part of a project aimed at protecting Christians in foreign countries, in particular Syria and the self-proclaimed republics of Donbass.
Abortion is currently fully legal in Russia, but in recent years conservative politicians, together with religious figures, have made repeated attempts to change this.
In May 2015, MPs representing the parliamentary majority United Russia party and the center-left opposition Fair Russia party drafted a bill that would limit state insurance payments for abortions, ban private clinics from performing them, and allow women to buy morning-after pills only on prescription after an obligatory health check.
The lawmakers also proposed that any woman seeking an abortion should undergo an ultrasound scan of her womb, as "according to statistics, up to 80 percent of them refuse to have the abortion when they see their child on the screen." The State has not yet discussed the motion.
In January 2015, the head of the Russian Orthodox Church, Patriarch Kirill, delivered his first-ever address to the State Duma, in which he called on MPs to begin a campaign against abortion, with a view to a total nationwide ban. He also criticized surrogacy and urged lawmakers to take steps to replace it with adoption.
In January this year, the State Duma passed a controversial bill on domestic altercations that some in the media described as the "legalization of domestic violence." The bill reduced responsibility for first-time domestic violence to an administrative offense (punished with fines or up to 15 days in custody), but still allows for repeated cases or violence that leads to bodily harm to be prosecuted under the Criminal Code.
You can share this story on social media: