Russian parliament could make bride abduction a criminal offence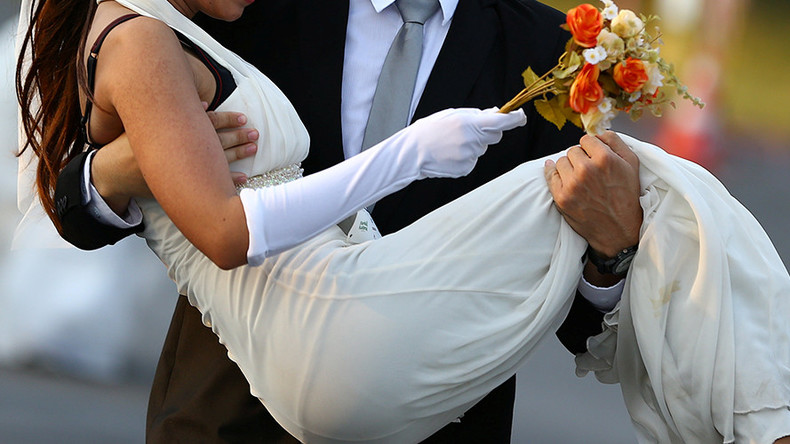 If implemented, the new legislation might help eradicate the bride abduction "tradition" which still exists in some regions of Russia.
On Wednesday, the parliament of Russia's Republic of Ingushetia submitted a draft bill to the State Duma, suggesting a three-year imprisonment penalty for kidnapping women and forcing them into marriage.
Russia's Criminal Code includes an article regarding human abduction, which carries a prison sentence of up to fifteen years, depending the consequences and if it was committed by more than one man. The article, however, states that if the abductor releases the abductee voluntarily, and there were not any other offences committed, no criminal charges would be pressed.
The tradition of bride abduction, which still persists in some regions of Russia, usually goes unpunished, since the "issue" is often settled between the families of the bride and the abductor. Also, victims often do not file complaints, as they are afraid of losing their "honor" and "purity" if the case goes public.
However, an abduction might lead to a row between families and even bloodshed if the abduction "case" is not settled peacefully, legislators pointed out in the explanatory note to the draft bill.
The Ingushetia authorities have been working to eradicate the "tradition," but only managed to reduce the number of cases.
"There've been cases of bride kidnapping in the republic and other regions of North Caucasus recently, despite the effort of the authorities and citizenry of the region," TASS quoted Ingushetia Parliament speaker Zelimhan Evloev as saying earlier in April.
Back in 2013, Muslim leaders of the region imposed fines of 200,000 rubles ($3,550) on bride abductors and 100,000 rubles on their accomplices, greatly reducing the number of abductions.
"We were not able to eradicate, nullify the number of them so far," Evloev added.
The draft bill was introduced after a recent incident which occurred in Ingushetia on April 8, when several men violently abducted a 19-year-old from her home, injuring some of her relatives in the process. One of the abductors was arrested and faces criminal charges, while relatives of the abductee managed to bring the woman back home.
You can share this story on social media: