Russian region head seeks to boost public safety by limiting number of cars in wedding processions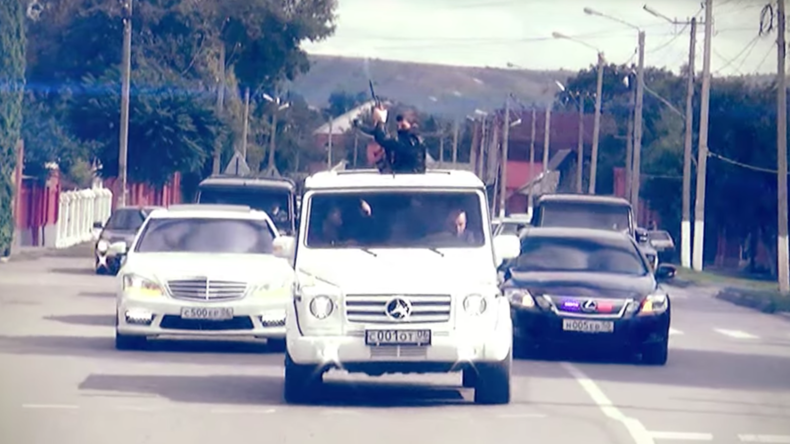 The head of the southern Russian Republic of Ingushetia has proposed to limit the number of cars in wedding processions by just three, hoping the move will prevent fatal traffic accidents like those he watches in online videos.
Ingushetia leader Yunus-Bek Yevkurov came forward with this suggestion at the recent meeting with the chairman of the Regional Security Council, Akhmed Dzeytov, reads the report published on the republic's official website.
Yevkurov said he had watched several videos on the internet containing footage of large-scale traffic accidents involving and caused by cars from wedding processions. He was so impressed that he ordered the Security Council to launch a series of preventative measures and also asked traffic police to hold raids every Sunday to check if drivers at weddings strictly observed all traffic rules. Finally, Yevkurov said that in his opinion wedding processions should not contain more than three cars.
Earlier this week the '360 Podmoskovye' TV channel, broadcasting in the Moscow Region, released a video from Ingushetia in which a large motorcade of decorated cars traveled on a highway at high speed and one of the cars went off the road and overturned. Apparently the accident was caused by a mistake of the driver, who was thrown from the vehicle.
There were no immediate comments on the initiative in Ingushetia itself, but an activist from neighboring Chechnya said in press comments that he did not expect the situation to improve after Yevkurov's proposal is implemented. The chairman of the Chechen Youth Union, Rustam Tapayev, told 'Moscow Calling' radio that limiting the number of cars in processions on a busy highway was too difficult. He also said that simple enforcement of the existing traffic rules could yield better results, as happened in Chechnya.
READ MORE: Enraged bride attacks husband with bouquet after jumping out of wedding car (VIDEO)

You can share this story on social media: