Stalin's popularity in Russia triples since 1990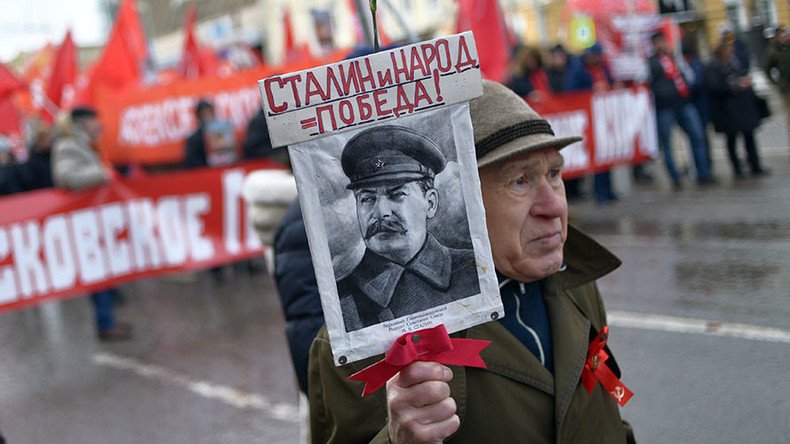 People who like Joseph Stalin the most of all the actors in the 1917 Bolshevik Revolution now account for 24 percent of Russians, or three times more than the share of 8 percent registered in 1990.
According to the poll conducted by the independent Levada research agency in March this year, 24 percent of Russians described Soviet dictator Joseph Stalin as a revolutionary with whom they sympathize.
At the same time the proportion of people who named their favorite character as Vladimir Lenin fell from 67 percent in 1990 to 26 percent this year. Other figures mentioned in this year's poll were Tsar Nicolas II of Russia and the first head of the Bolshevik security service, Felix Dzerzhinsky – 16 percent each named them as their favorite participants in the 1917 turmoil.
Forty-two percent of those who took part in the 2017 poll said that in their opinion the fall of Russian monarchy that came as a result of the February 1917 bourgeois revolution was "a very substantial loss." Twenty-seven years ago, only 11 percent of Russians held similar positions.
Some 49 percent of respondents in this year's poll said the October Revolution played a positive role in history. Thirty percent described this role as negative, while 21 percent found the question too difficult to answer.
At the same time, 36 percent of respondents said that the Bolshevik Revolution gave Russia a major impetus for social and economic development. Fifty percent maintain that the country's development after 1917 went on in accordance with the features and traditions of the Russian people, just as it had before.
Twenty-eight percent of respondents believe events similar to the 1917 Socialist Revolution could be repeated in modern-day Russia, and 59 percent described such scenario as improbable.
Last March, Levada conducted a separate poll dedicated solely to Stalin. Back then, 54 percent of respondents described their attitude to Stalin as positive, 17 percent said their attitude was negative, 32 percent said they were indifferent about the late Soviet dictator and 14 percent could not give a definitive answer.
The majority of respondents acknowledged that Stalin's radical policies had caused millions of casualties among innocent Soviet citizens and mass violations of human rights. Two thirds of respondents agreed that Stalin was a tyrant and about half said that Stalinist purges were crimes.
However, 26 percent of respondents said that the repressions were caused by political expedience and should be justified from a historical perspective.
You can share this story on social media: