Activists decry Russians' increasing sympathy for Stalin
Published time: 31 Mar, 2015 13:10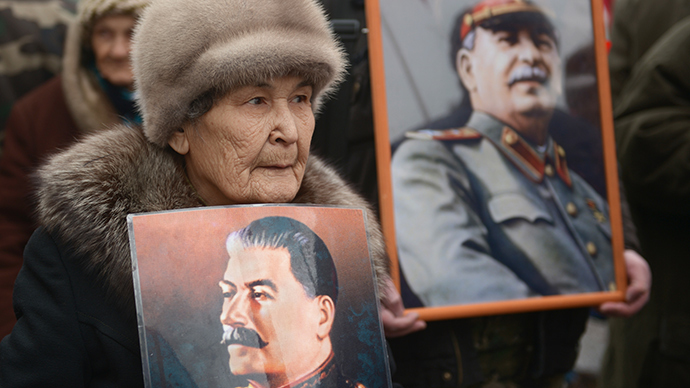 The head of the Russian NGO that specializes in the investigation of Stalinist purges has voiced concern over the growing popularity of the late Soviet dictator, as demonstrated by public opinion polls.
"This is a very troubling signal. And it is a testimony not even of the citizens' attitude to Stalin, but rather of the relations between the state and a person. Stalin is perceived as a symbol of a powerful and potent state. The fact that Stalin and his policies were inhumane becomes of secondary importance," the head of Memorial, Arseny Roginsky, said in comments to Interfax.
The activist added that he saw this as a very dangerous tendency.
Roginsky's March statement was drawn by the release of the latest research on the attitude to Stalin in the Russian community, conducted by the independent pollster Levada Center in late March this year. According to the survey, the share of those who confessed their respect to Stalin increased from 23 percent in 2010 to 30 percent this year. The number of those who described their attitude as "fascination" and "sympathy" remained unchanged at 2 and 7 percent respectively.
When pollsters asked the public if they would like a monument to Joseph Stalin to be erected in Russia for the 70th anniversary of the victory in WWII, 37 percent said they had a positive attitude to the idea (compared to 24 percent in 2010)and 27 percent said they did not like it (36 percent in 2010).
In late February this year, Memorial criticized a proposal to erect a monument to Stalin in Moscow and to rename the city of Volgograd as Stalingrad.
READ MORE: Perm-anent marker: Communists defend Stalin billboards in Urals city
"No city can be named after a man who has been an organizer, initiator and perpetrator of a mass terror that exterminated Russian peasants in the years of collectivization, and by whose orders over 700,000 people were executed in 1937 and 1938 alone," Roginsky said back then. "In other words, we cannot name a city after a criminal."
The controversy surrounding Stalin's name and his role in Russian history is a popular topic and has been used by various political forces in Russia in recent years. In 2013, leftist parties proposed renaming the city of Volgograd back to Stalingrad, claiming that this was the name used by the city's defenders during the war and that Stalingrad is better-known around the world.
However, both the general public and the Russian officials rejected the idea. Polls showed that 60 percent of Russians were against the renaming. President Putin's press secretary, Dmitry Peskov, said in an interview that Kremlin officials had never considered renaming Volgograd to Stalingrad and did not plan to put this issue on the agenda in the future.