Quarter of Russians want Donbass republics recognized as sovereign states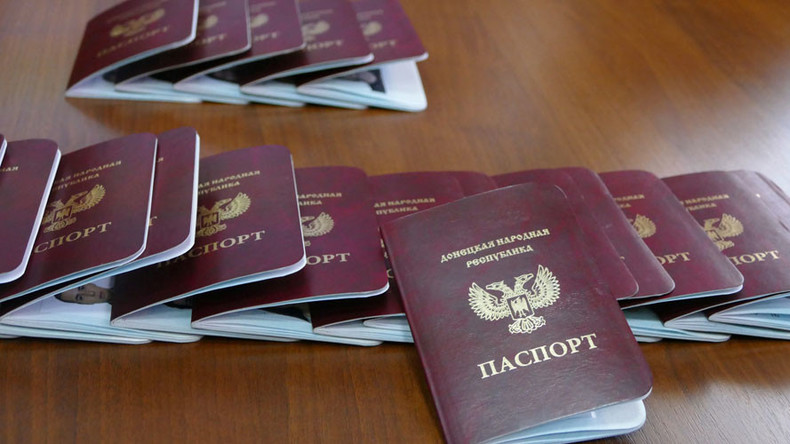 A quarter of respondents in a recent poll said that the Russian government should recognize the Donetsk and Lugansk Republics, although 30 percent said they would prefer Russia not to take sides in the Ukrainian conflict.
According to research conducted by the state-run pollster VTSIOM in late March, 25 percent of Russians think that their country must recognize the independence of the two breakaway regions in southeast Ukraine. A further 24 percent think that Moscow should accept the republics as part of the Russian Federation.
Just 4 percent of Russians think that Moscow should offer help to the Kiev regime in restoring control over the self-proclaimed republics. Nine percent said that Russia should back the Donetsk and Lugansk Republics if they seek broader autonomy within Ukraine, with 8 percent saying they could not answer the question.
Thirty percent of respondents said that, in their opinion, Russia should not get involved in the Ukrainian conflict and should be neutral.
Concerning the recent the transport blockade imposed on the Donbass region by the Kiev government, 78 percent of respondents in Russia said they were aware of it, while 22 percent said they had heard the news from the pollsters for the first time.
In addition, 20 percent said that the government shouldn't try to affect the blockade in any way, while 15 percent wanted Russia to help the breakaway regions. Seven percent said that Russia should mediate in talks between Kiev and Donbass, and 4 percent said that the best solution would be the two republics' accession into the Russian Federation. Just over a third – 37 percent – couldn't unambiguously give their opinion on the subject.
The head of VTSIOM's research department, Mikhail Mamonov, said in comments with RIA Novosti that the poll had demonstrated that the average Russian now sees Ukraine in a harsher light and doesn't think that the multiple controversies that appeared in the latest crisis will be solved in the nearest future. The expert suggested that this situation had caused Russians to hope for new status for the Donetsk and Lugansk republics.
The Donetsk and Lugansk Republics proclaimed their independence from Ukraine in 2014, soon after a violent coup installed an openly anti-Russian government in Kiev. Ukrainian authorities attempted to suppress dissent with military force, leading to a full-scale conflict that many people perceive as a civil war.
In mid-February this year, Russian state agencies began to accept passports and other documents issued by the Donetsk and Lugansk Republics to protect the rights and freedoms of people who live there. Russian Foreign Minister Sergey Lavrov emphasized that the official Moscow position on the self-proclaimed republics had not changed, but that accepting the passports was necessary in order to offer relief to the residents of the regions, impoverished and destroyed by war.