'Collapse of state power': Top Russian senator blasts Ukraine over railroad blockade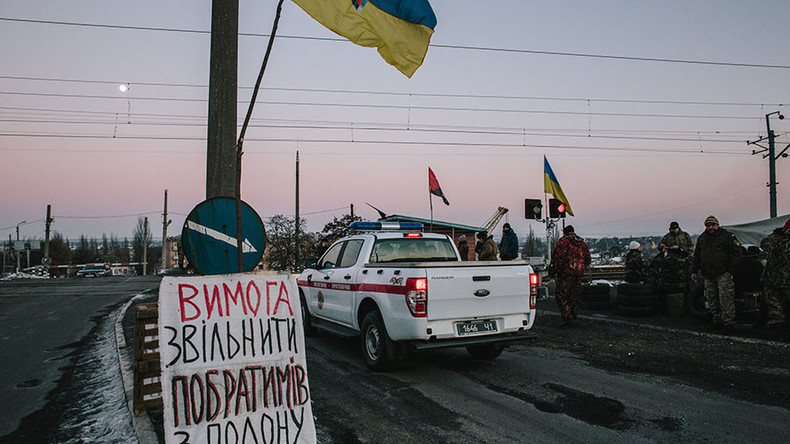 The blockade imposed by right-wing Ukrainian radicals on cargo trains coming from Russia is more proof that the current Kiev government is neither stable nor recognized by its own citizens, a senior Russian senator has said.
"Reports that the organizers of the Donbass blockade have set up yet another checkpoint only add to the impression that in three years Ukraine has failed to establish a stable and universally recognized state power system," the head of Russia's upper house committee for international relations, Konstantin Kosachev, wrote on his Facebook page.
"When practically anyone can disrupt railroad communications with a neighboring state we see a serious hint at the possible collapse of statehood," he added.
Read more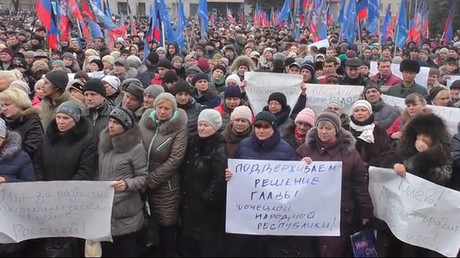 The comment came soon after Ukrainian police launched a criminal case into attempts to stop Russian cargo trains passing through Ukrainian territory near the town of Konotop.
The radicals who imposed the blockade have received support from a number of Ukrainian MPs, in particular Semyon Semenchenko of the Self-Reliance Party.
Kosachev also warned that the activities of Ukrainian radicals threaten various international agreements, and pointed at the lack of logic in situations where violations were committed on the Ukrainian side but the blame and sanctions were put on Russia.
He said that in the current situation the provocations could last indefinitely as they have become a tool through which various Ukrainian political clans were fighting for power and assets.
Earlier this year, the Russian upper house passed an address to the Ukrainian parliament, the Verkhovna Rada, in which senators called for an end to the aggressive actions of the Ukrainian military against the self-proclaimed republics in Donbass and demanded that Ukraine fulfill its obligations within the Minsk Agreements.
The step came after a major outbreak of violence in the regions, including armed raids and mass and indiscriminate shelling from Ukrainian government forces.
The Russian Foreign Ministry has also accused Ukrainian forces of using heavy artillery to shell residential areas in Donetsk, adding that Kiev seems to favor a military resolution of the Ukrainian conflict. The shelling resulted in casualties among civilians and the destruction of several infrastructure facilities, the ministry added.
Russian diplomats called on the Ukrainian government "to stop armed provocations in Donbass immediately, to adhere to the existing ceasefire agreements and to proceed with responsible implementation of all provisions" of the Minsk Accords, including political reforms.