Top Russian senator proposes anti-terrorist committee in OSCE Parliamentary Assembly
Published time: 29 Mar, 2017 10:38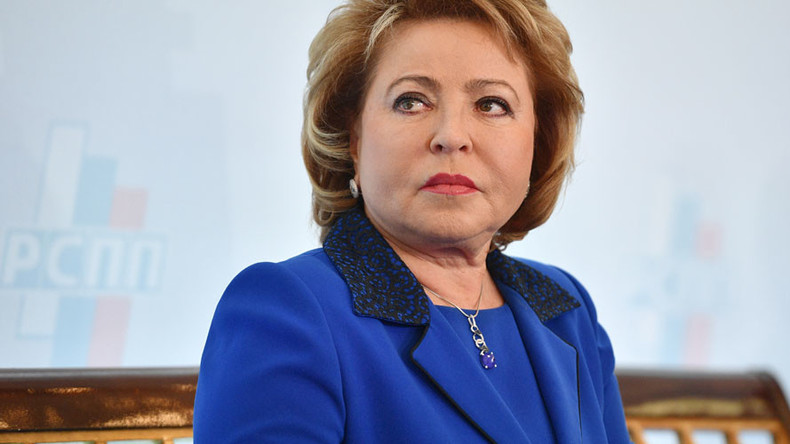 Upper house speaker Valentina Matviyenko has called for an anti-terrorist committee to be set up in the OSCE Parliamentary Assembly, noting that Russia has repeatedly pushed for more unified efforts in fighting the scourge of terrorism.
"My opinion is that we must learn from history's lessons. One of the most important lessons is that we – the proponents of democracy, human rights and freedoms – can defeat the cruel enemy named terrorism only if we unite against this common threat," Matviyenko said at an international conference organized by the parliamentary assemblies of two major international blocs – the Organization for Security and Cooperation in Europe (OSCE) and the Commonwealth of Independent States (CIS).
"I consider it important that we regularly hold anti-terrorist parliamentary conferences. Apart from this, we propose to set up a special anti-terrorism committee with the OSCE Parliamentary Assembly," she said.
The chief Russian senator also noted that Moscow had repeatedly called upon the international community to create a broad anti-terrorism coalition, warning that until that is achieved, various extremist groups would continue to commit brutal crimes.
Matviyenko also held a personal meeting with OSCE PA president Christine Muttonen and told her that Russia was open to dialogue with the group. She also promised that Moscow would create all the necessary conditions to hold an OSCE PA session in Russia.
Muttonen, in turn, promised that the assembly would consider the proposal of a joint counter-terrorism committee.
Earlier this month, Matviyenko attended an OSCE conference dedicated to women's views on security policies, stating there that the existing deficit of trust between nations was caused by aggressive policies of Western nations. She added that the demonization of Russia by the Western media only served to worsen the situation, especially when it concerned issues regarding Russia, Crimea and Ukraine.