Russian senate speaker blames West-induced confrontation for European security crisis
Published time: 23 Mar, 2017 14:52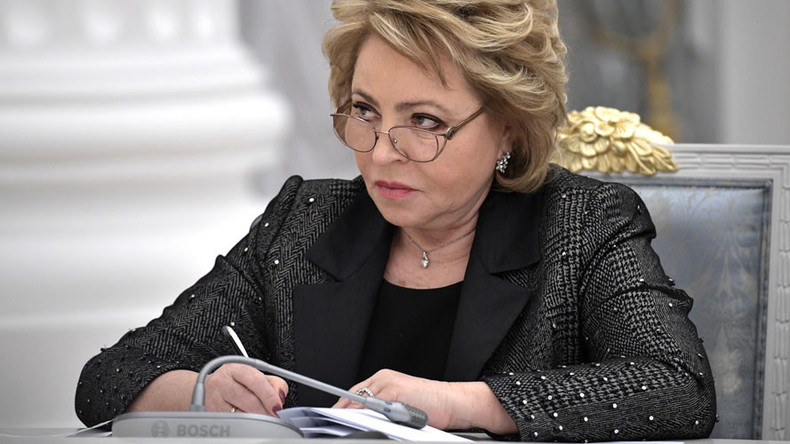 The politics conducted by Western countries after the collapse of the USSR has laid the foundations for the current security crisis in Europe, Federation Council speaker Valentina Matviyenko told an OSCE conference.
Speaking at the conference – dedicated to women's views on the security policies implemented by the Organization for Security and Cooperation in Europe (OSCE) – Matviyenko stated that positive shifts were possible even in the most difficult conditions and reminded other participants that the OSCE itself was created in mid-1970s, at the peak of the Cold War.
"However, today the situation in Europe is different. There is a deficit of trust between nations, political tensions, freezing or severing of economic ties, use of sanctions and sharply increased military activities of NATO," she said.
How many terrorist attacks you need to understand that all nations must unite their efforts in fighting this global evil? Russia is constantly calling for this and it is ready for cooperation," Matviyenko said. She also proposed to set up an international committee for countering terrorism on the basis of OSCE's Parliamentary Assembly.
She added that the demonization of Russia by the Western media only made things worse, especially when it concerned the relations between Russia, Crimea and Ukraine.
"They keep accusing Russia of 'occupying' the [Crimean] peninsula, but this has nothing to do with reality."
In reply to the statement in which European Parliament's Vice-President Ulrike Lunacek again called the reunification of Russia and Crimea "occupation" and alleged that the rights of Crimean Tatars had been violated, Matviyenko invited the lawmaker to Crimea so that she could personally witness the situation that she wanted to discuss.
"You will see that life is calm and peaceful there. Or you can meet your colleagues and listen to their stories. A lot of lawmakers from different European countries have visited Crimea over part years."
Matviyenko also told the conference that Russia appreciated OSCE's commitment to dialogue and preferred this dialogue to continue in a friendly manner.