Liberal Democrats walk out of Duma session after corruption row with United Russia
Published time: 15 Mar, 2017 10:09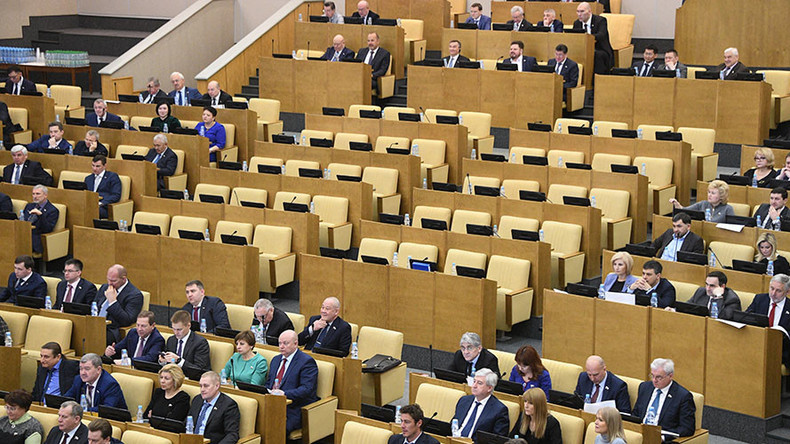 All MPs from the LDPR walked out of the Wednesday session of the State Duma after a deputy speaker asked the Parliamentary Ethics Commission to look into their harsh statements accusing the parliamentary majority party of corruption.
The controversy began shortly beforehand as the head of the Liberal Democratic party of Russia (LDPR), Vladimir Zhirinovsky, accused certain unnamed MPs of meddling in the elections of the Moscow Region legislature.
"They have intimidated seven people forced them to take their candidacies off the list, to leave the elections. Who is commanding there? A milk mobster and other thieves and mobsters. The MPs that represent Moscow Region are also corrupt, you have been bribed," Zhirinovsky said.
He did not name anyone personally, but in his trademark flamboyant manner promised to execute his opponents with through hanging and firing squads once he wins next year's presidential polls.
On Wednesday, Deputy Speaker Sergey Neverov, who represents parliamentary majority party United Russia called upon the Parliamentary Commission for Ethics to pay attention to Zhirinovsky's statements and take disciplinary measures if any rules had been violated.
"Political speeches can be emotional, but they must not be insulting or rude. Our voters have decided who should represent them in the State Duma. Gentlemen, please respect our constitution and the presumption of innocence. Only a court can declare someone a criminal, but now we are discussing executions in the State Duma."
Zhirinovsky replied by stating that half of United Russia MPs had no right to be in the State Duma session hall and ordered that his party members walk out from the session in protest.
State Duma Speaker Vyacheslav Volodin then asked the lawmakers to "calm down their emotions," noting that to him the events looked a lot like a road rage.
This was not the first open standoff between nationalist and populist LDPR and centrist-conservative United Russia. In September 2015, a representative of United Russia's ally group – the United Popular Front – asked state prosecutors to discipline Zhirinovsky who had called United Russia MPs thieves and accused them of fomenting anti-government riots. At the time, all Liberal Democratic Party members also left the State Duma session hall in protest of the alleged violations during the elections in Amur Region in the Russian Far East.
Prosecutors looked into the incident and concluded that Zhirinovsky had violated no laws and the possible breach of parliamentary conduct must be investigated by the Ethics Commission of the State Duma.