Demonization of Russia an 'insult to Americans' – top Russian senator
Published time: 28 Feb, 2017 15:51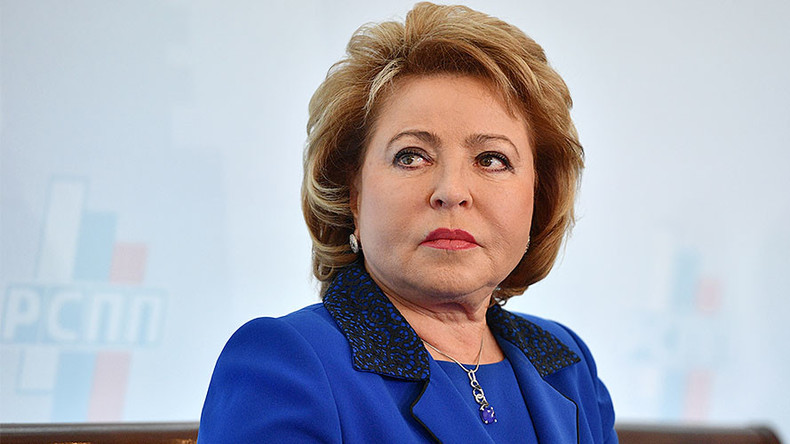 The head of the Russian Upper House has dismissed the unfounded allegations of clandestine Russian attempts to influence foreign elections as 'absurd,' adding that claims like this are an insult to the American people, who freely made their choice.
"We have never interfered with internal affairs or affected the internal political situation in foreign nations, in countries such as Germany and France. This is simply absurd; it cannot be perceived without humor," Valentina Matviyenko said during her Tuesday meeting with the head of the Defense and Foreign Affairs Commission of the French Senate, Jean-Pierre Raffarin.
Matviyenko said that the accusations of Russian interference in the US presidential election completely lacked any proof, and are an insult to the American people, who had made their own free choice in the election.
The top Russian senator called the forthcoming French election "an important political event for Europe and for the world as a whole," and assured French politicians that Russia would cooperate with any leader elected by the French people.
Matviyenko also told French lawmakers that she personally considered it shortsighted to allow the Russophobic campaigns and demonization of Russia to influence people's opinions.
Senior Russian officials have repeatedly dismissed accusations of meddling in and "hacking" foreign elections, made by foreign politicians and intelligence agencies.
In January, Vladimir Putin's press secretary Dmitry Peskov said that Moscow was "seriously tired of these accusations," adding that the persistent campaign "truly is reminiscent of a witch hunt."
"From our point of view, groundless accusations backed by nothing sound, fairly amateur, on an emotional level… can hardly apply to the highly-professional work of truly highly-qualified intelligence agencies," Peskov told reporters, commenting on the report by the US Office of the Director of National Intelligence (ODNI) titled 'Assessing Russian Activities and Intentions in Recent US Elections.'
The unclassified version of the report accused Russia of aiding the victory of Donald Trump, at the same time acknowledging that "Russian intervention" did not, in the end, affect the outcome. The report also failed to provide any concrete evidence of Russian interference.