Domestic violence bill: Senator says NGOs distort statistics in bid for grants (RT EXCLUSIVE)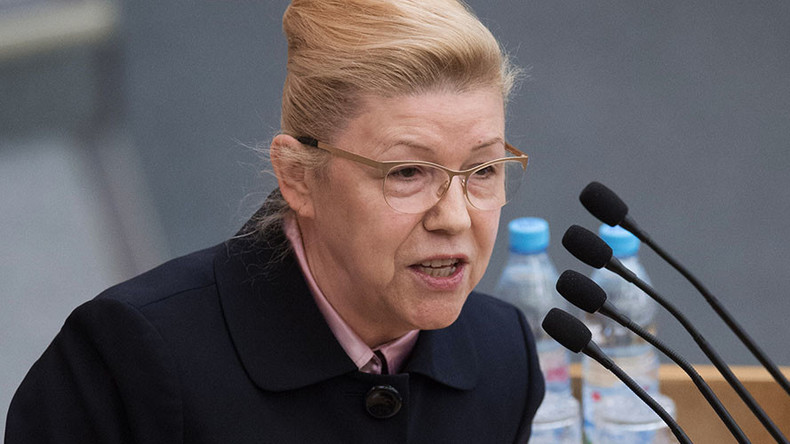 A Russian senator sponsoring the bill to decriminalize first-time domestic violence has told RT that the public and media resistance to the draft began because of a campaign launched by NGOs competing for Russian and foreign funds.
In a major interview with RT, Senator Yelena Mizulina stated that even though family violence was a terrible thing, the claims that it was an acute problem in Russia were completely untrue. She said that the "statistics" quoted by various NGOs which deal with the problem often lacked sources, were obsolete or deliberately misinterpreted.
She gave an example in which the Russian center for countering domestic violence, 'Anna', distributed a report in which it claimed that 36,000 Russian women were killed as a result of domestic violence. Mizulina noted that the NGO quoted a 1999 UN report as its source and kept repeating it until recent years, while real statistics presented recently by the Russian Interior Ministry read that of 1,060 cases of premeditated murder committed within Russian families in one year, 300 victims are women and 760 are men.
"We may have shortcomings, but I want other nations to judge Russia and its laws objectively, honestly and truthfully" Mizulina told RT.
"Another example of how statistics can be misinterpreted is the statement that in 2015, 600,000 women in Russia were victims of domestic violence. Real figures are that of about 2.3 million crimes committed that year, 600,000 were committed against women – but this includes all crimes, with larceny and business embezzlement. This is much more real," she said.
"This is part of a sanctions standoff, but they also have a very mercantile interest in promoting this agenda. The thing is, Western countries have grant programs for NGOs that fight domestic violence. Because of this, a lot of topics are being forcefully included in the political agenda. This applies not only to groups that receive foreign funding. Russia has a lot of its own programs on the federal and regional level. NGOs inflate the importance of this topic in order to increase the overall funds allocated to fight the problem and also as part of competition for the existing ones," the senator stated.
Mizulina also noted in the interview that Russian laws ordered strict punishment for domestic violence. "Feminist movements that have lobbied for this amendment are accusing us of fascism in the West. What fascism are they talking about? The criminal code is full of articles punishing violence against women, against pregnant women, against children and all family members who depend on the abuser. We have stronger responsibility for this, just as they do in European countries."
Mizulina went on to blame the "feminist lobby" for the recent situation in which first-time assault without consequences to health was moved to the civil code in cases when the victim and attacker were strangers, but remained in the criminal code in cases when they were relatives. She said that the initial amendment treated all citizens equally and was introduced as an attempt to make Russian legislation softer, but the changes made before the third reading led to discrimination.
In mid-2016, first-time attacks on people who were not family members or relatives were moved from the criminal code into the civil code. Lawmakers soon noticed the apparent contradiction that this left parents appearing more dangerous to their children than complete strangers.
Mizulina said that the amendment had been included in the bill silently in the hope that no one would notice. It was thanks to the internet that Russian parents and the public in general had discovered the changes.
The lawmaker emphasized that the main objective of the so-called decriminalization of domestic violence was not to allow unjustified separation of children and their parents. The law in its current form has already led to several cases in which children were taken away from families because of the slightest suspicion that they were beaten. "There can be mistakes, but what the police do is they immediately take away the children and the parents have to prove that they are innocent," she said.
"Child protection services have developed in such a way that they see the family as one of the most dangerous places for children. But this is entirely wrong – the family, especially the biological family, is one of the safest places and it must be protected… If the family were so dangerous, how could humanity have survived to this moment?" Mizulina noted.
She also explained that currently the term 'violence' was rather broad as it also included psychological pressure. "Banning your children from playing computer games before they do their homework is also violence. Grounding your children for some misdemeanor is also psychological violence and pressure. There is no guarantee that children will not start blackmailing their parents. They can report on them if parents refuse to buy expensive things," she said.
The senator said that ultimately once the controversial bill comes into force it would be possible to assess its effectiveness and make new amendments, correcting possible mistakes. "It is just that a beating with no consequences to health is a civil offense. The punishment is quite harsh and there is no possibility for an amicable agreement. After the bill comes into force we will see a real picture and will adjust the law accordingly," she said. Mizulina also stated that in her opinion the amendment in its current form will not do anyone harm.
On Wednesday, the Russian upper house passed the bill that reduces "beating of close persons" from a criminal offense to a civil one. Once it is signed into law, first-time offenses not resulting in bodily harm will be punishable by fines between 5,000 and 30,000 rubles, 60 to 120 hours of community service, or 10 and 15 days of police detention. Repeatedly assaulting relatives or causing bodily harm to family members remain criminal offenses, with the punishment unchanged – a fine amounting up to three months' income, community service of up to 360 hours, or up to three months of police detention. Beatings that cause bodily harm can carry a punishment of up to two years behind bars.
You can share this story on social media: