Moscow court recognizes 2014 turmoil in Ukraine as coup d'état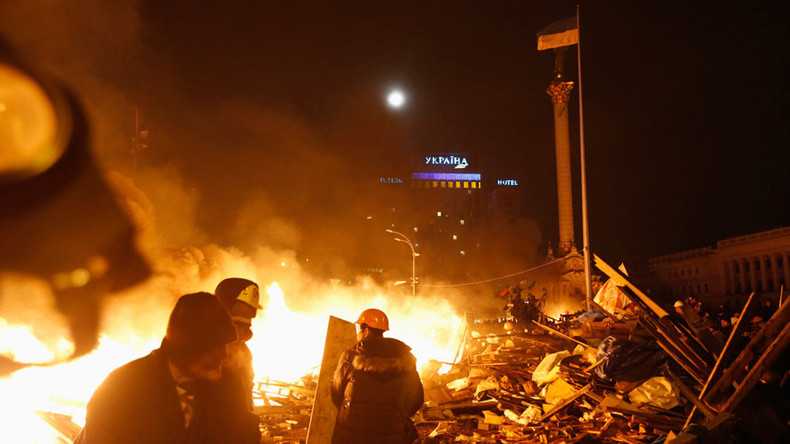 A Russian court has ruled in favor of a former Ukrainian lawmaker, recognizing the events in Kiev in 2014, which ended in the ousting of the president and the installation of the current regime, as an illegal coup d'état.
"The main claim of the lawsuit has been confirmed by testimony presented within the case," Dorogomilovsky Court Judge Anna Shipikova announced on Tuesday in Moscow.
The lawsuit was filed by former Ukrainian parliament member and co- founder of the Ukraine Salvation Committee Vladimir Oleynik. He claimed that when the Ukrainian parliament voted to oust then-President Viktor Yanukovich in February 2014, the stated reason was "self-withdrawal from execution of presidential responsibilities," but the Ukrainian Constitution did not include this as a reason for impeachment, and was illegally changed without approval from the Ukrainian Constitutional Court.
Yanukovich's ousting was therefore illegal, as was the subsequent early presidential election in May 2014.
Yanukovich personally testified at the trial in mid-December, and told the court that he possessed information that the bloodshed during the Maidan unrest was not initiated by pro-government law enforcement officials, but by snipers who opened fire at unarmed crowds from buildings controlled by the protesters themselves.
He also said that the anti-government activists prevented journalists and special services from entering the buildings where the snipers' positions were spotted, and hinted that the snipers had come from foreign countries, without specifying which.
Oleynik said that he had decided to turn to the Russian court because he wanted to protect his rights guaranteed by the UN Declaration of Human Rights, which was ratified both by Ukraine and the Russian Federation. An earlier attempt to open a case in Ukraine was rejected by the Ukrainian Prosecutor General's Office due to "lack of grounds to include in register," which Oleynik said is itself a blatant violation of the law.
Oleynik also said that the official court ruling describing the 2014 power grab in Ukraine as a coup d'état would allow all persons responsible for it to be brought to justice. He expressed his hope that the case would set a precedent and prevent unconstitutional overthrows in other countries, which often result in violent conflicts and human rights violations. He added that he was prepared to make an appeal to the European Court of Human Rights.
Protests in Kiev's Maidan Square began in late 2013, when the Ukrainian president delayed signing an association agreement with the EU. This move sparked mass riots, known as Maidan or EuroMaidan, which eventually led to Yanukovich being ousted from the presidency and fleeing to Russia. Clashes between armed protestors and Berkut riot police left dozens of people dead, with many policemen among the victims.
These events led to Yanukovich fleeing to Russia, and the opposition forming a new government. The southeastern regions of Ukraine refused to live under the new regime and announced their intentions to secede from Ukraine, which prompted the new government in Kiev to initiate a military operation that quickly escalated into a full-scale civil war that has claimed thousands of lives.
According to Russia's Federal Migration Service, over one million people have moved to Russia from southeastern Ukraine since 2014, and over half of them decided not to return home.