Trump victory paves way for Russia-US coalition in Syria – top Russian senator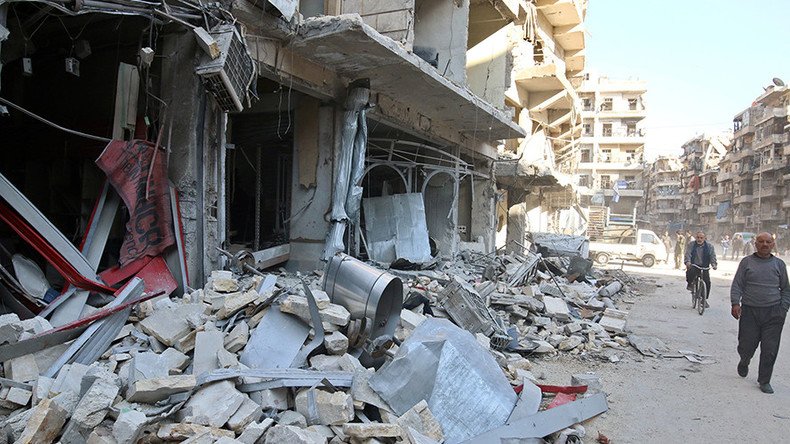 The head of the Upper House committee for international relations has said that Russia and the US could form a single anti-terrorist coalition in Syria once US leadership reconsiders its priorities and stops meddling in the internal affairs of foreign nations.
"There are no impenetrable barriers in the way of this. It is very important for us to understand that the United States' strategic interests regarding Syria are about to change, because until now their priority was not in suppressing terrorism, but in displacing the country's government. Such changes are in line with Donald Trump's electoral rhetoric. He has said that the US would stop intervening in the internal affairs of foreign nations. If this really takes place, I see no problems whatsoever that could prevent Russia and the United States from being in the same coalition – one that would base its actions strictly on the norms of international law," Konstantin Kosachev said in an interview with Izvestia daily.
Boris Dolgov of the Russian Orientalism Institute's Center for Arab and Islamic Studies commented on Kosachev's statement, saying that, while changes in the US' approach to the Syrian crisis were possible, building a Russia-US anti-terrorist coalition won't be quick or easy.
"We have heard [US President-elect] Donald Trump saying the right things. In particular, that the United States should fight terrorism in Syria and not president Bashar Assad. However, the US administration won't be replaced until January of 2017, and there will be no shift before then," Dolgov told Izvestia. He also noted that the US is supporting a wide array of armed groups at present, and Donald Trump will have to overcome a great deal of resistance from the CIA and the Pentagon to put a stop to this, which will take a great deal of time and effort.
Moscow has repeatedly accused the US-led coalition in Syria of violating international law, as its intervention has been sanctioned neither by the Syrian government nor the UN Security Council. Russia has also called attention to how its warplanes apparently intentionally attacked Syrian Army units that were fighting Islamic State (IS, formerly ISIS/ISIL) and other terrorist groups.
In late 2015, French President Francois Hollande called for the formation of a broad anti-terrorist coalition in Syria that would include Russia, the United States, and its Western allies. Although the French leader has held talks with both Moscow and Washington to discuss the issue, he has apparently made no progress. The US State Department has said that it would only allow Russia to join the US-led coalition if Moscow withdrew its support for President Assad.
In May of this year, Russian Defense Minister Sergey Shoigu told reporters that Moscow had proposed to Washington that Russia and the US-led coalition join forces to fly joint missions targeting the Al-Nusra Front terrorist group in Syria, but the US responded without enthusiasm.
You can share this story on social media: