Duma obliges Russian MPs to reply personally to citizens' addresses
Published time: 9 Nov, 2016 10:40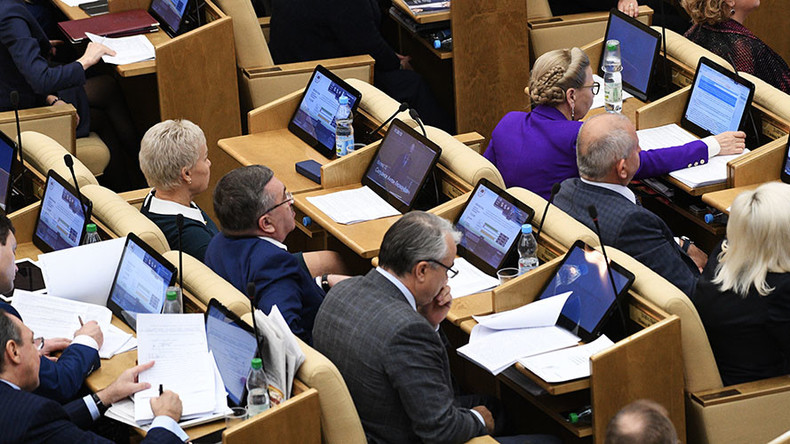 The State Duma has passed the bill that obliges all of its members to personally sign replies to citizens' addresses, but also agreed to discuss the issue of bulk emails sent to the parliament separately.
The draft was prepared by the head of the State Duma Law Making Committee, Pavel Krasheninnikov (United Russia).
"Messages addressed to State Duma members must be looked into by them in person. MPs have the right to request documents and any information they need for preparing replies to the citizens' addresses from State Duma committees and commissions responsible for corresponding issues," reads the text of the approved bill.
The move is in line with the promises made by the freshly-elected Duma speaker Vyacheslav Volodin, who said last month that the lower house would make some regulations changes in order to improve the quality of lawmakers' work and increasing their responsibility for its results.
However, before the vote a number of MPs noted that the new amendment could make lawmakers' lives too difficult unless bulk emails are excluded from those addresses that require a personal signed answer.
"This simply distracts lawmakers and cannot be described in any other way than lobbyism on the part of various groups and companies," Volodin said about the problem.
Krasheninnikov promised that the bill would be reworked to include counter-measures against spam.
In October, the lower house passed a set of amendments that changed the voting procedure in the chamber, making it impossible for members to vote for each other. While the bill was in the discussion phase, some of its sponsors suggested also introducing monetary fines for missing Duma sessions. However, this article was not included in the final draft.