Russians consider US elections important; see Trump victory as chance to mend relations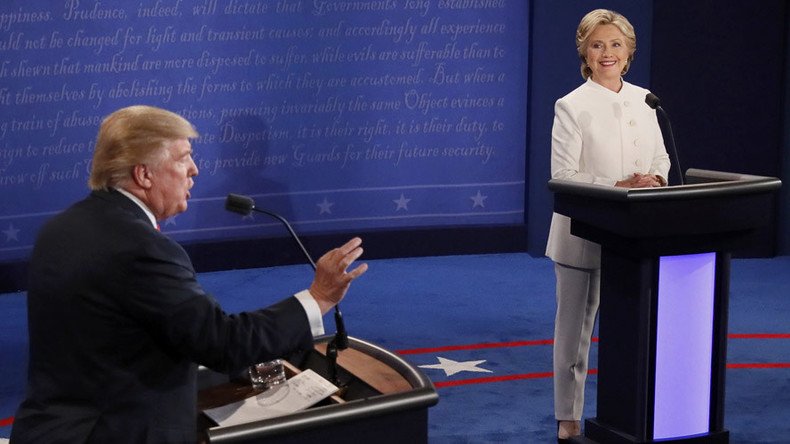 Over half of Russians think that the outcome of the upcoming US presidential election is important for their country, and many expect US-Russian relations to worsen further if Democratic Party candidate Hillary Clinton is victorious in November.
According to the latest survey conducted by state-run public opinion center VTSIOM, 57 percent of Russian citizens think that the results of the looming US presidential elections will be important for their country, while 38 percent don't think they will have any impact on relations between the two nations, either way.
While 53 percent of respondents said they were somewhat interested in the US campaign, only 12 percent said they were following it closely.
In addition, 29 percent believed relations between Russia and the United States could improve if Donald Trump is elected, while only 8 percent thought they would sour.
Just 4 percent said a Clinton victory would bode well for Russia-US relations, while 45 percent predicted that conflicts between the countries would worsen with Hillary in the White House.
Some 35 percent of those polled said a Trump victory was more in Russia's national interests, while only 6 felt the same about a Clinton presidency. Some 22 percent of Russians said neither candidate would be of benefit to their country as president.
Interestingly, 52 percent of Russians said that they saw Hillary Clinton's and Donald Trump's ages (68 and 70 respectively) as a proof that the US electoral system has been debased, while 27 percent considered this proof of the system's stability, with average voters inclining towards more experienced candidates.
A different poll, conducted in September of this year by the independent research center Levada, showed that less than a third of Russian citizens were concerned about the growing divide between their country and the West, but the majority still wanted better relations with foreign nations. Some 62 percent of that poll's respondents said Russia should make more of an effort to mend relations with the US and other Western nations, falling from 68 percent in 2014, while the percentage answering that this was unnecessary stood at 24 percent, the same amount as in 2014. The remaining 14 percent said they could not answer the question.
Another Levada Center poll conducted in June of this year showed that 72 percent of Russians saw the United States as the country most hostile towards the Russian Federation.
In late 2015, Levada conducted a similar survey to study Russians' attitudes towards the US, the EU, and other Western countries. At that time, 75 percent of Russians said that their country should do more to improve relations with the West, but 65 percent also maintained that their country should continue implementing independent policies. Just 26 percent said Russia should compromise in order to lift the economic sanctions mutually imposed as a result of the crisis in Ukraine.
You can share this story on social media: