FSB urges tighter punishment for using WhatsApp in state agencies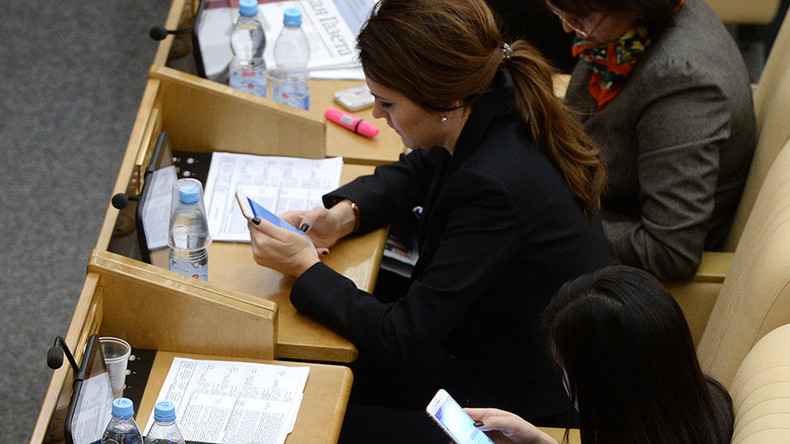 Russia's Federal Security Service (FSB) is set to prepare a bill that would allow civil servants to be fired for using non-certified internet messengers such as Viber or WhatsApp at work, saying the apps potentially threaten the information security of state agencies.
The decision to charge the security service with the task was taken earlier this week at a working meeting in the presidential administration, attended by representatives of the FSB, the Communications Ministry, the Ministry of Economic Development and other state agencies, Izvestia daily reported on Friday.
READ MORE: Putin bans Russian civil servants from using foreign airlines for business travel

The head of the working group, Ilya Massukh, told reporters that he and his colleagues had agreed that Russian law should be amended to rule out the use of non-certified programs and applications that use encoding for working purposes in state agencies. He named WhatsApp, Viber and Telegram as examples of such software. Massukh also said that the future FSB bill would punish any violation of the ban with disciplinary measures, including dismissal from state service.
The head of Russia's Security Council, Nikolay Patrushev, has repeatedly criticized various regional officials for using Google and Yahoo email, as well as the WhatsApp messenger service, for work-related purposes. In September 2015, Patrushev urged Russian governors to take measures for further prevention of their use, saying that foreign-made software posed a system threat to national information security.
Also in September last year, Communications Minister Nikolay Nikiforov said in a televised interview that all employees of Russian state agencies must immediately stop using services like Google, Yahoo or WhatsApp at work, allowing however for such use in employees' free time.
READ MORE: Russian civil servants must stop using US messaging services at work - communications minister

Back in 2014, MP Vladimir Gutenyov of the parliamentary majority party United Russia proposed mandatory certification for all communication devices used in state structures, claiming it would offer additional protection against eavesdropping programs such as those revealed by Edward Snowden. However, the lawmaker has not presented this proposal as a legislative draft.
In November 2015, Prime Minister Dmitry Medvedev signed an order banning all Russian state and municipal agencies to use any foreign-made software with the exception of programs that have no Russian-made analogues listed in a special register. The register includes software copyrighted by the Russian government, state agencies, municipal bodies, Russia-registered non-profit groups or commercial companies of which at least 50 percent is owned by Russians. The software must be available all over the country and the share of license fees paid to foreign legal entities must not exceed 30 percent of overall proceeds.
READ MORE: PM Medvedev bans foreign-made software in Russian state agencies
Exceptions are allowed in cases when the register lacks any programs with the necessary technical or operating features.