US begins handover process for jailed Russian pilot Yaroshenko – report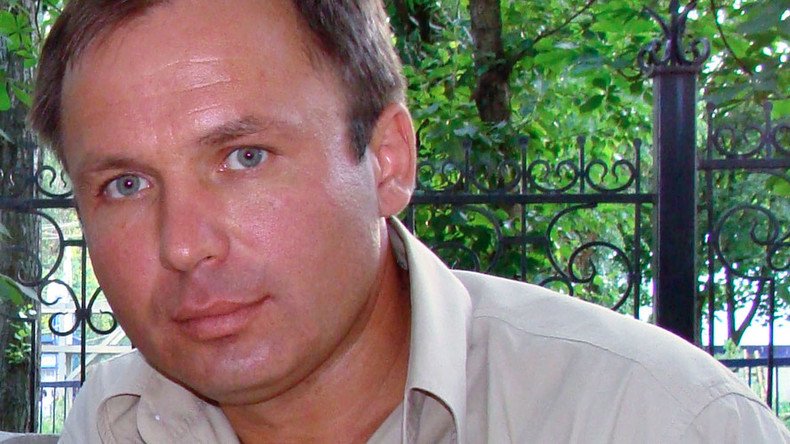 Jailed Russian pilot Konsantin Yaroshenko has told reporters that he has signed a document that will allow his transfer home from America, effectively starting the handover process. He said, however, that prison officials in the US had forced him to sign the papers.
Yaroshenko, who was sentenced to 20 years in prison in 2011, told Izvestia daily that the papers on his transfer to Russia – where he would continue serving the sentence – were based on the 1983 Strasbourg Convention on Prisoner Transfer. At the same time, Yaroshenko noted that he feared that his US jailers in reality had no intention of sending him to his home country.
READ MORE: 'Truth about my son will cast shadow on US' – jailed pilot's mother warns Obama

Yaroshenko told reporters that Russian authorities had requested his handover under the Strasbourg Convention two years ago, but the US Federal Prison Authority had denied the request, offering various excuses.
A repeat application could only be made in two years, but on September 12 a prison official gave Yaroshenko a document containing a request to be handed over to Russia.
The Russian citizen emphasized that there were only two ways to submit the request, and that he wanted to do this through the Russian Justice Ministry "because I don't want to ask anything from the American side, I don't want to have anything in common with them, because they are a criminal nation and a criminal system."
He also said that the conditions in which he was kept were still terrible and that his health was still in poor condition. "Nothing is changing here. I still have no teeth and they do not render me any medical help. I constantly feel pain, but I am already used to it – like a dog. I have no idea what excuses they are offering in connection with this fact."
Yaroshenko said that he signed the document but considered the whole process coercion. "I have signed the paper, but I have not asked them for this. For them there is a difference between making an official answer to the Russian Justice Ministry and answering a common inmate like myself."
He also said that while handling his case the United States and Liberia had violated the international convention on human rights and the international convention against torture and inhumane treatment of prisoners, but said that no one has so far sued these nations, which raised concerns for him.
READ MORE: 'I was framed because of Bout' – jailed Russian pilot
The Russian Justice Ministry said in comments that it had not received any papers concerning Yaroshenko's handover from the United States.
However, the Russian Foreign Ministry's plenipotentiary for human rights, Konstantin Dolgov, said that if the information in Yaroshenko's interview to Izvestia was correct, this was within the Russian approach to the problem.
"We have offered the US side to use the Council of Europe's Convention on Transfer of Prisoners to get Konstantin to his home country as soon as possible. Of course, the final decision has to be made by American authorities. But we have similar precedents in our bilateral relations and we will continue our work," the Russian diplomat said.
Yaroshenko was sentenced to 20 years in prison in the United States in 2011 for allegedly participating in a conspiracy to smuggle drugs into the country. However, the charges against him are based on the testimony of US agents who launched a sting operation against him.
He was arrested in Liberia and was flown to the US without any official extradition procedure, despite protests from Russia and violations of the diplomatic code. The pilot himself has always maintained his innocence, and insisted from the beginning that his case was not about drug trafficking. He says his poor command of English prevented him from understanding the nature of suggestions made to him by undercover DEA agents.
Yaroshenko's defense team has repeatedly stated that the whole scheme was organized by US special services in an attempt to extract evidence against Russian citizen Viktor Bout, the owner of a transport company who had also been extradited to the US and sentenced after a DEA sting operation.
READ MORE: 'There is no justice here' – Russian pilot jailed in US tells of kidnap, torture & lies

Earlier this month Yaroshenko's mother addressed US President Barack Obama with a request to show mercy and return her son to Russia. Lyubov Yaroshenko reminded the US leader that Russian President Vladimir Putin had helped to secure the release of US citizen Kevin Dawes from detention in Syria at the request of the US, and that the whole world had expressed great respect for this humanitarian act. She added that she hoped President Obama would understand her grief and that she was ready to walk to Washington on foot if this would help get her son home.
You can share this story on social media: