Kremlin plays down 'hyped-up' media reports on web security measures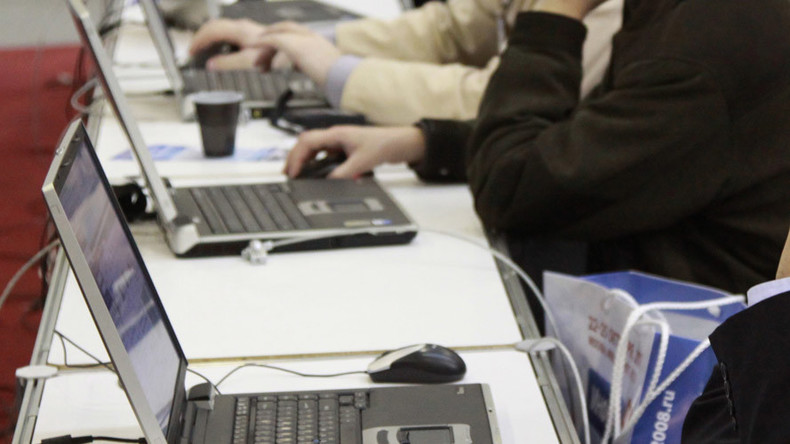 Russia's presidential press secretary has accused the mass media of sensationalism and misleading the public over planned state controls of web traffic, adding that the reforms must be judged by their results.
"As far as I understand, today we have no particular results and all these topics are now being reflected on by the mass media in the form of a very lively discussion, and a lot of their statements do not find proof in reality. The mass media release a lot of reports in a hyped-up way," Dmitry Peskov told reporters on Monday.
"We should not excessively give in to our emotions, we should simply wait for the work to be finished, for the president's orders to be fulfilled and for those who had been charged with these tasks to duly inform society about the results," he said.
READ MORE: FSB mulls total real-time decoding of Russian web traffic - report
The comments came after the popular business daily Kommersant reported that the authorities had plans to decode all internet traffic and check it for keywords that could be used by terrorists and other extremists in their communications.
The newspaper referred to Natalya Kasperskaya, the head of one of the largest Russian internet companies, Infowatch, as saying that such measures are planned as part of a recently passed set of anti-terrorist bills.
However, after the article was published, Kasperskaya accused Kommersant of distorting her words and merging several statements into one to freely interpret them for sensational effect.
In a Monday interview with radio station BFM, Kasperskaya noted that her quotes in Kommersant had been recorded at a conference dedicated not to counter-terrorist measures, but to a completely different topic – the registration of Russian-made software that could soon be obligatory for use in state agencies and government corporations.
"We are discussing the decoding of web traffic but in a completely different context – we discuss the use of Russian-made encryption for important transactions," she said.
Apparently Kommersant used the interview with Kasperskaya to back its earlier claims that Russia's Federal Security Service, the FSB has plans of a technical system that would allow the decoding of all Russian internet traffic in real time and the scanning of it for keywords indicating potential threats. Last week the newspaper quoted unnamed sources as saying that the FSB was engaged in consultations with the Communications Ministry and the Industry and Trade Ministry in order to develop such a system.
In comments on last week's article, Russian internet ombudsman Dmitry Marenichev said that the total decoding of internet traffic was "inadmissible" as it would discredit the privacy of information and also compromise the security of various online payment systems and banking applications. The official added that he doubted that the FSB was able to implement the plan because real-time decoding required tremendous computer power.
The broad package of anti-terrorist bills that came into force in Russia in July this year obliges all communication companies, including internet providers, to retain information about their clients' data traffic for three years (one year for messengers and social networks) and also to keep actual records of phone calls, messages and transferred files for six months. The law also orders communications companies to hand over encryption keys to state security agencies on demand, allowing them to read encrypted data.
READ MORE: New Russian anti-terror laws fight US global information monopoly, key sponsor claims

The new law has received objections from internet businesses and the communications sector, which said that to follow its demands they needed extremely expensive software and hardware upgrades that would not be compensated by the government in any way. As a result of the discussion, Putin issued a separate decree ordering measures to be taken so that the financial risks of the law will be minimal. In addition, the State Duma Security Committee promised to make changes in the law after it is tested through actual practice.